Cool Stuff: 'Avengers Assemble' Art Show At Gallery 1988 In Los Angeles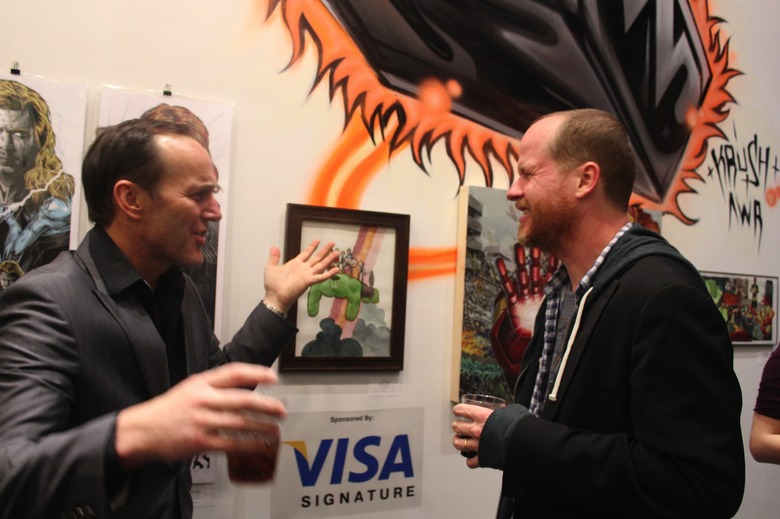 Marvel Studios and Walt Disney Pictures have teamed with Los Angeles' pop culture art gallery Gallery 1988 to produce an Avengers themed art show (sponsored by Visa).
After the jump you'll find many photos taken by /Film photographer Alyssa Saucedo at an exclusive preview reception. I have included photos of my ten favorite pieces — I didn't want to post too much because you'll want to see a lot of these pieces for yourself when the show officially opens. We also have some shots of the "street" art painted on the gallery walls, a few crowd shots, including some photos of Avengers director Joss Whedon and star Clark Gregg admiring the artwork (see above).
And we also have some photos of the awesome Avengers-themed cupcakes created by The Cake Mamas (the 2012 winners of Cupcake Wars). I took a brief lapse from my diet to have half of the Thor cupcake and it was pure heaven.
There is so much great and unexpected art at this show, a lot of affordable prints and some really really cool originals priced in the hundreds. I almost bought Joebot's awesome Avengers record adaptation but one of the Marvel producers got to it first (and by almost bought it, I really mean that I debated about buying the piece before deciding it was more money than I could afford, and after I saw it sell, quickly changed my story to "someone bought it before I could"). One piece which I love is Fernando Reza of Fro Design Co's "Avengers Assemble" poster, which almost feels like something Olly Moss would have created — some really clever work connecting the characters through minimalism. Give it a long look or else you might miss many of the details.
I was invited to an early preview, but the show will be open to the public beginning on Thursday, May 3rd from 7-10pm for a grand opening reception, and will run through May 6th, 2012. This is the first show at Gallery 1988's newest location at 7021 Melrose Ave, just across the street from their original space next to Golden Apple Comics. If you're in Southern California, I strongly urge you to check it out.