Two Action Packed New Images From Pixar's 'Brave'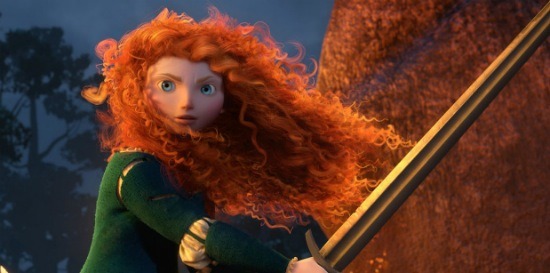 Pixar is being very careful with how they're marketing their latest film, Brave. As I've already written, almost every single piece of the marketing has been from the first 30 minutes of the movie and only a very select few glances at the latter part of the story have popped online. The Japanese trailer had a few, same with the Japanese poster and now two new images do the same. They also give a taste at just how much action is likely to be in the film when it opens June 22. Check them out below.
Thanks to Pixar Planet for the images.
The first image of Merida playfully clashing swords with her father, while her mother watches on, is basically the entire movie in a nutshell. As you might have read in one of my earlier interviews, the one thing that has stayed true to Brave over its several years of development is the relationship between rebellious, tomboy daughter and stuck up, overprotective mother. As for when this moment happens in the film, I can't say for sure. It might be in the first 30 minutes as part of a montage of sorts, but I don't remember.
The second image is the money one though. This is not in the first 30 minutes at all and features the heads of all the local clans holding a bear while Merida prepares to go to battle (or at least, that's what I see. The image is kind of like a rorschach test in that you could likely read other things into it.) If I'm right, though, why is she fighting on her own? Why is no one helping?
Thursday morning, we're going to reveal two more new images from Brave so check back then. Or just go watch the awesome new trailer again: