No-Name Outfit Wants To Make 'Evil Dead 4;' Sam Raimi Sues, As Remake Begins Production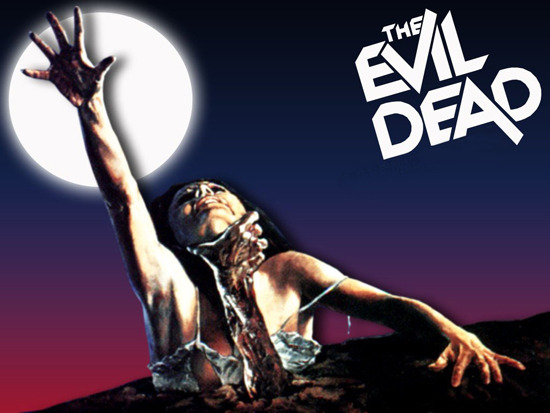 There are strange things going on out in the woods. Not the sort of strange things that happen in Sam Raimi's first two Evil Dead movies. No, these are the things that happen after those films become successful, even iconic. In 1979 Raimi, his producer Robert Tapert, and actor Bruce Campbell formed Renaissance Pictures, which made The Evil Dead. Two more films, Evil Dead 2: Dead By Dawn, and Army of Darkness, were produced, and there has long been talk of a fourth.
That's where things get weird. Raimi and Tapert once said they'd never do a fourth film. Another company, Award Pictures, took that to mean that Renaissance had abandoned the future use of The Evil Dead name, and wants to make its own fourth film, called either Evil Dead: Consequences (chortle) or Evil Dead: Genesis of the Necronomicon. Now Raimi, Tapert, and Campbell are locked in a legal battle with Award Pictures.
THR reports that Renaissance is suing Award Pictures, stating that Award's intent to make an Evil Dead movie is "interfering with Raimi's own plan to make his own sequel for Sony Pictures and FilmDistrict." Now, before you get too excited that Raimi is really going to make a fourth film — he has talked about it, but there's no real info on that front — keep in mind that this is really about keeping the unrelated Award Pictures from making its own movie using Raimi's title.
This isn't quite like the Night of the Living Dead rights situation, where George Romero and John Russo each created their own sequels (and, in Russo's case, alterations of the original). As far as we can tell, Award Pictures is just an outfit that is trying to snap up a recognizable title in order to crank out a movie that people will mistake for a Raimi-made sequel.
In case you want to check out who Award Pictures is, here's the company website. Looking at the site, it almost seems like this is a bunch of people trying to force Raimi into making a sequel using the most intricate means possible.
All this comes to light just as the remake of The Evil Dead begins production in New Zealand.
In that case, Sam Raimi, Robert Tapert, and Bruce Campbell produce a film from a script by Fede Alvarez and Rodo Sayagues, with rewrites by Diablo Cody. Alvarez directs. Executive producers are J.R. Young, Nathan Kahane, Joseph Drake and Peter Schlessel. A Sony press release today says,
Sony Pictures Worldwide Acquisitions (SPWA) and FilmDistrict have partnered with Ghost House Pictures on a worldwide deal – excluding U.K. and France – for Sony Pictures to distribute the remake of Evil Dead.
In the film, five twenty-something friends become holed up in a remote cabin where they discover a Book Of The Dead and unwittingly summon up dormant demons living in the nearby woods, which possess the youngsters in succession until only one is left intact to fight for survival.
Jane Levy ("Suburgatory") stars as Mia, Shiloh Fernandez (Deadgirl, Red Riding Hood) as David; Lou Taylor Pucci (Carriers) as Eric; Jessica Lucas (Cloverfield) as Olivia and Elizabeth Blackmore ("Legend of the Seeker") as Natalie.