Award-Winning, Controversial 'Love Exposure' Finally Coming To Blu-Ray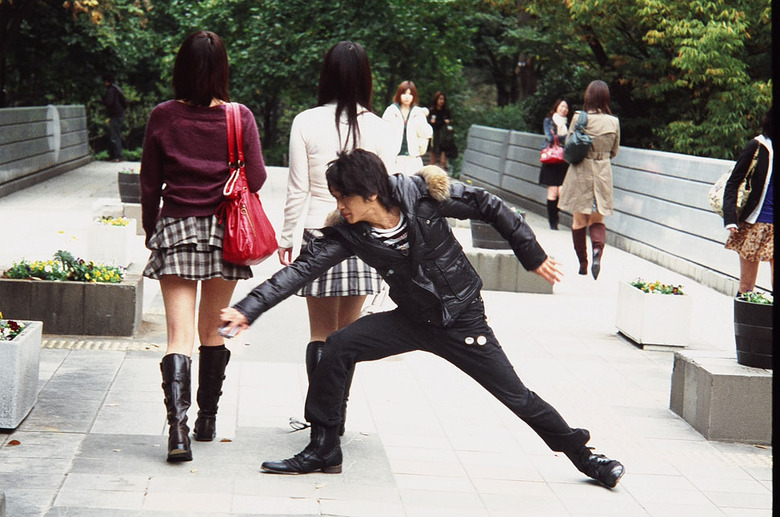 Love Exposure is a four-hour Japanese film about upskirt photography. There's obviously much more to it than that but, if you want to get people curious about the film, that sentence works. Originally released in 2009, writer/director Sion Sono's film was originally close to six hours but eventually he had to trim down to release his epic version of a simple story: troubled boy falls for the wrong girl.
Though it was very successful on the festival circuit, Love Exposure didn't see a U.S. release until late 2011 and even then, it was quite small. Still, the film was almost universally praised as a masterpiece and will finally enjoy a worthy Blu-ray release August 6. Read more after the jump.
Twitchfilm happily found the information on the release, which also included announcements of Tetsuo 1 & 2 among others.
According to the release, the Love Exposure disc will have "Nearly an hour of deleted and extended scenes, New exclusive interview with Sion Sono plus the 1 hour long 'making of' which was on our original DVD release"
I missed Love Exposure when it briefly played in Los Angeles and am very happy to hear about this announcement. Everyone who saw it absolutely raved about it. It sounds like a truly memorable experience. Here's an official plot description from the official site that gives a bit more information:
Tokyo teen Yu Honda (Takahiro Nishijima) is the traumatized son of a widower-cum-Catholic priest (Atsuro Watabe), who begins a sexual liaison with parishioner Kaori (Makiko Watanabe). When Dad's affair comes to a halt, he begins admonishing his son to confess to so many sins that the 17-year-old takes up new ones to appease his father's increased religious zeal. One "sin" – surreptitiously taking candid photographs of panties worn by female pedestrians – becomes a vocation. Unfortunately, a deal with a porn company comes undone when Yu turns down starring roles, because he admits he's saving himself for a Virgin Mary-like ideal woman. On cue, the narrative introduces feisty schoolgirl Yoko (Hikari Mitsushima), who loathes men and enjoys beating them up for their moronic attitudes. Yu falls in love and tries to win her, fully aware that exposure of his superstar status will enrage her. Observing the development of this bizarre courtship is religious cult rep Aya Koike (Sakura Ando). Aya not only wants to claim Yoko for herself but aims to convert each of the protagonists to her own spiritual cause. Pointed (and pointless) violence ensues at various intervals, beginning with Aya's castration of her comatose father.
And the excellent trailer for good measure: