Netflix In Early Talks To Revive 'Jericho'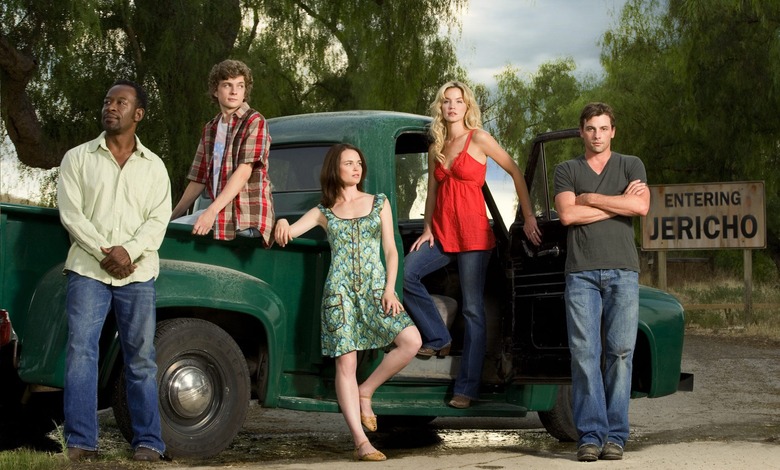 CBS' Jericho is one of those cult series that must have been at least as well known for its passionate fanbase than for, y'know, the show itself. After just one season of disappointing ratings, the network decided to cancel the post-apocalyptic drama in May 2007 — only to be bombarded with bags of peanuts as part of an unusual fan campaign to revive the show. The ploy worked, and the show returned in early 2008. Unfortunately, despite the enthusiasm of its viewers, viewership was lower than ever, and CBS axed Jericho for good following Season 2.
Yet four years later, Netflix has noticed that its customers still seem to love the series. So much so, in fact, that the home video and streaming service has reportedly entered early talks to revive the show, much as it's doing with Fox's Arrested Development.
On the other hand, the conversations are still in the preliminary stages, and there are some significant hurdles that could derail this deal altogether. Much of the cast and crew have since moved on to other projects, so wrangling everyone back together might not be easy. And it could prove to be difficult for Netflix and CBS to find a deal that makes financial sense for both sides. While Netflix hasn't shied away from shelling out for content that it thinks is worth it — as it did with Arrested Development — the company's going through a bit of a rough patch, and its share price has been dropping in recent weeks.
Moreover, this isn't the first time a Jericho return has been floated. Comcast was in talks to take over the series back in 2008, but the deal fell through. Around 2009, executive creator Jon Turteltaub was talking up the potential for a movie sequel, but nothing's come of those plans yet. There has been one success story, though: A series of Jericho comics launched in 2009.
Discuss: Is Jericho worth bringing back, or are you over it?