'A Very Harold & Kumar Christmas' Director To Helm Big Screen Adaptation Of 'Rascal Raccoon's Raging Revenge'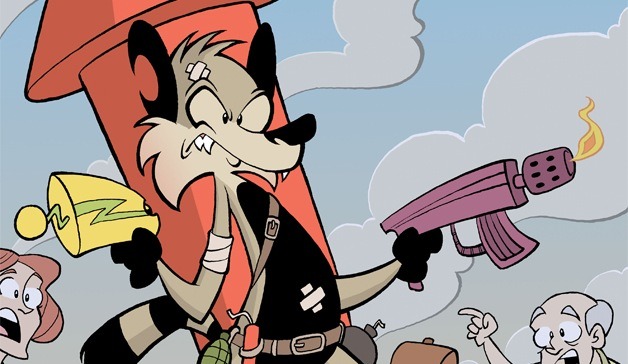 Last fall's A Very Harold & Kumar Christmas may not have been a runaway hit, but it was certainly good enough to boost the profile of its relatively unknown director Todd Strauss-Schulson. Before that film, he was best known, by those who knew him at all, for being "some MTV director." Since the modest critical and commercial success of Harold & Kumar, though, Strauss-Schulson has been weighing a few different options for his next feature.
Among other things, there was talk last year that he could do the horror send-up Final Girls or perhaps the assassin comedy Family Getaway. Now he's also gone and attached himself to Warner Bros.' Rascal Raccoon's Raging Revenge, a live-action/animation hybrid based on a graphic novel by Oni Press that suggests what might happen if Sylvester ever actually managed to catch Tweety. More details after the jump.
Here's the synopsis of the original book by Brendan Hay and Justin Wagner, via the publisher's official website:
Welcome to Toonie Terrace, home of the fun-loving Toonies and their jealous, bitter rivals, the Meanies. For all their shenanigans, no Meanie has ever murdered a Toonie... until now. After thousands of painful failed attempts, Rascal Raccoon has finally killed his arch-nemesis, the charming and adorable Jumpin' Jackalope. Rascal is overjoyed, but there's one problem: what does he do now? With nothing left to obsess over, Rascal's life falls apart. Fortunately, he soon finds a new target for his anger: the animator who created him!
I kind of love that premise, if only because it suggests a bit of existential angst for a type of character we don't generally associate with profound thought.
The goofy tone should prove no problem for Strauss-Schulson, if the charmingly irreverent Harold & Kumar is any indication, and he even has some experience with animation thanks to the claymation sequence from that film. Somewhat less promising is the involvement of screenwriter Matt Fogel, whose only previous produced screenplay was Big Mommas: Like Father, Like Son. But everyone has to start somewhere, I suppose.