Rumor: Rihanna Joining 'Fast And Furious 6' As Villain?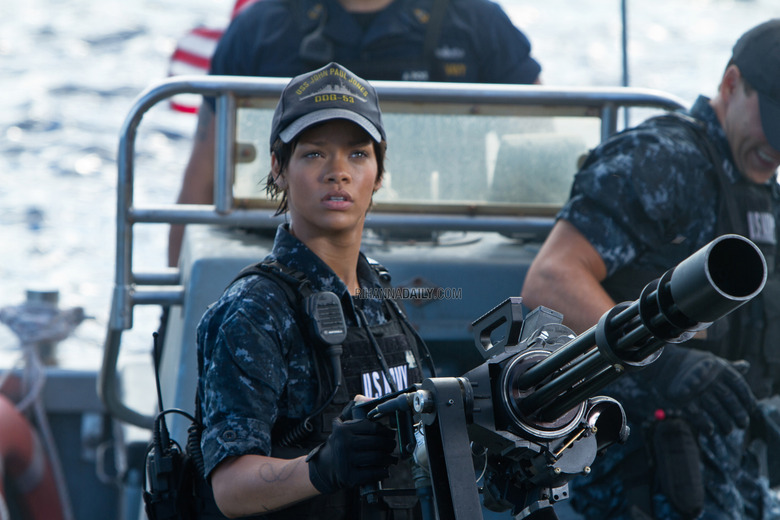 An abundance of booty shorts, bikinis and slow motion dancing haven't exactly made the first five Fast and Furious movies girl-power milestones. However, Justin Lin's Fast and Furious 6/Fast Six looks like it might change that. The post-credits scene in Fast Five hints at the return of not one, but two of the franchise's more empowering female characters. (Spoilers held for after the jump.) Additionally, Gina Carano is currently in talks for the film, and now one site clams hip-hop singer Rihanna might join the film in a villainous role. Read more after the jump.
The Daily Mail (via Collider) had this to say about Rihanna's possible casting:
An inside source told the Sun, 'Rihanna impressed with her acting debut in Battleship. Writers think she'll be perfect for the role. Her character has plenty of bite and doesn't take any prisoners — just like her in real life.' The source continued, 'It's a step up the ladder for her and could lead to bigger action roles.'
Take that with a bit of caution, as it is the Daily Mail. Universal has been contacted for comment but has yet to respond.
We don't have much in the way of plot specifics for Fast and Furious 6 except that it'll return Vin Diesel and Paul Walker as well as their nemesis, played by Dwayne Johnson. As stated above, the post credits scene of Fast Five hinted that Michelle Rodriguez's character, who died in a previous installment, would be back from the dead and that an agent played by Eva Mendes in the second film might also be back. (UPDATE: Mendes denies this.)
Screenwriter Chris Morgan has been working tirelessly on the script to the sixth installment in the franchise, which starts shooting in May. (He's also working on the seventh.) The films were originally rumored to shoot back to back but that likely won't be the case as the sixth film has already been slated for a May 24, 2013 release date.
Having not seen Battleship yet, I can't rightly comment on Rihanna's acting but the girl certainly has presence and in the Fast and Furious franchise, presence is enough.
What do you think of the possible villainous casting?