Sequel Bits: 'Thor 2', 'Iron Man 3', 'X-Men: First Class 2', 'A Good Day To Die Hard'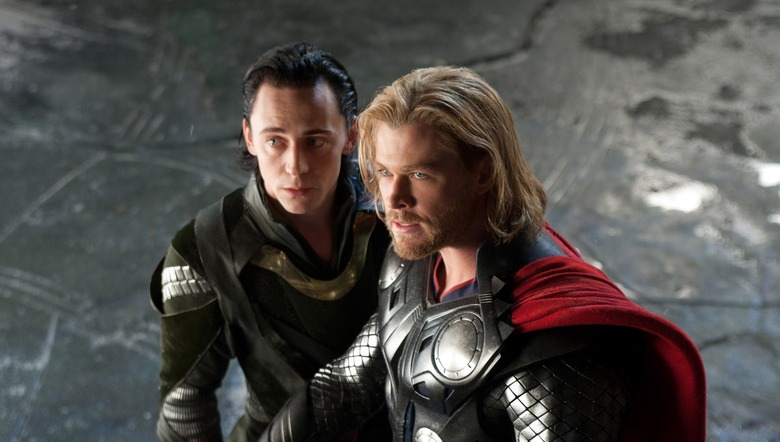 In this superhero-heavy edition of Sequel Bits:
Tom Hiddleston talks about the relationship between Thor and Loki
Iron Man 3 will be an "antidote" to The Avengers, says Kevin Feige
The X-Men: First Class sequel is aiming for a late 2013 or mid-2014 release, and Jane Goldman is part of the writing team
Fox CEO offers details on the father-son bond in A Good Day to Die Hard
It's part of the thrill of the character, and the thrill of the Thor character in a way, is that Thor and Loki are defined by each other. [...] Thor's reason for being in The Avengers is that Loki is down there [on Earth] so he has to come and get him back. I think what'll be interesting about Thor 2 is how it takes what happens in The Avengers as a springboard for then what happens in that film.
Hiddleston added Asgard would factor into the sequel, and that Thor's budding romance with Jane Foster (Natalie Portman) would also be "extended and expanded and developed in an interesting new way." But what he really wants to see at some point is a redemption for his character and a reconciliation for the family, as he told Collider in a separate interview:
I think I'm most excited about really taking the relationship between Loki and Thor to another level. [...] What interests me, and I think Chris too, is what's Odin going to say about all of this, and about what happened in The Avengers? Can Odin and Thor find forgiveness for Loki in their own hearts? Can Loki accept that forgiveness? Can he forgive himself? What would it take to bring Loki back from the brink, from the dark side?
Meanwhile, Thor's fellow Avenger Iron Man (Robert Downey, Jr.) will have some issues to contend with all on his own. According to Marvel Studios president Kevin Feige, the new film will see Tony Stark cut off from the help of his superpowered teammates:
So Iron Man 3 has been structured specifically to sort of be the antidote to The Avengers. I'm not going to give away anything yet, but circumstances in the story separate Tony from having access to anything. We want to take Tony back to, metaphorically speaking, the cave from Iron Man 1, the first half of Iron Man 1, when he's cut off from the world and needs just focus on his intellects to get himself out of his situation. So he's not calling Thor, he's not calling Captain America, he can't press a special button to have the helicarrier come rescue him. I think that'll be a nice complement to the team up of Avengers.
As previously reported, Iron Man 3 will be based on Warren Ellis' six-issue Extremis storyline. [Empire]
We've known for some time now that A Good Day to Die Hard would see John McClane (Bruce Willis) heading to Russia to reunite with his estranged son Jack (Jai Courtney). What we've just now learned, however, is that the entire movie will be set in Russia, aside from a couple of "bookend scenes" in New York.
"John McClaine goes to Russia and I think the technical term — which I don't know if you can say on MTV, maybe you can — is he fucks everything up," Fox CEO Tom Rothman told MTV.
Rothman also sat down for a few words with Collider, in which he expanded a bit on the relationship between the two McClanes:
It's really a father-son story, which is that John McClane's been a great cop his whole life but he's been a pretty lousy father. He has a grown son who he's not really been in much touch with, and McClane thinks the son's a fuck up — that's a technical term. [...] So he goes to Russia, he thinks, to bail his son out of jail, and it turns out the son's not a fuck up, he's the antithesis of that. In fact, the apple has not fallen far from the tree, the apple has not fallen from the tree, which is that the son is a badder ass John McClane than John McClane.
Which is a good thing, because as one thing leads to another, father and son find themselves faced with some very formidable foes. "It comes to the point in the story where they're basically the most wanted men in the entire Soviet Union, and it's the two of them against all of the bad guys," said Rothman. "I've just gotta say, it's a classic, classic Die Hard."
Rothman also offered a small update on the scheduling for the X-Men: First Class sequel, which as we already know is due to start shooting this winter. "We're going to start January 2013, either for Christmas 2013, or Summer 2014," he told MTV. "The script is in development now. Matthew [Vaughn], his writing partner Jane Goldman, Simon Kinberg, they're all working on it now."