Watch The Opening Scene Of Sacha Baron Cohen's 'The Dictator'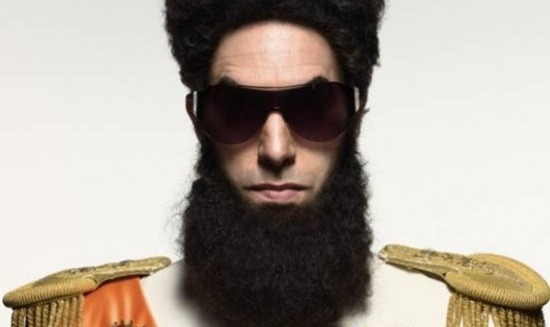 I can't really think of anyone more perfect to poke fun at vile tyranny than Sacha Baron Cohen, the guy who brought us Borat, Ali G, and Bruno. While plenty of comedians play at edginess, Cohen's material feels genuinely daring and fresh — not to mention very, very funny.
So I'm a bit sad to admit that none of the clips or trailers we've seen for The Dictator so far have done all that much for me. Still, I've got my fingers crossed that my first impressions will wind up being dead wrong, and this amusing clip of the opening sequence offers a glimmer of hope. Watch it after the jump.
Now that's more like it. There's some very silly stuff here, like the baby with the big beard and even bigger bush, but there are some darker, more sly jokes as well, like the bit about his mother's tragic fate and the business about him replacing the words "positive" and "negative" with "Aladeen." All in all, it's a nice blend of goofy and smart.
Described as "the heroic story of a dictator who risked his life to ensure that democracy would never come to the country he so lovingly oppressed," The Dictator sees General Aladeen exiled to the United States. Initially he spends his days sleeping with Megan Fox, ziplining between high-rises, and parading down Fifth Avenue with his entourage, but for reasons I haven't quite been able to figure out, he winds up working at a grocery store and befriending a hippie-ish co-worker (Anna Faris).
John C. Reilly, Ben Kingsley, J.B. Smoove, and Kevin Corrigan also star alongside Faris and Cohen in the Larry Charles-directed film, which hits theaters May 16.