Sequel Bits: 'Black Dynamite 2' Shoots Later This Year, According To Michael Jai White, Plus: 'Smurfs 2', 'Underworld 5', 'Before Sunset' Follow-Up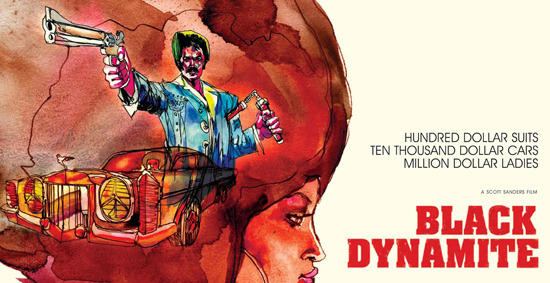 Could the big-screen sequel to 2009's Black Dynamite finally be getting underway? Michael Jai White thinks so. Also after the jump:
Christina Ricci will play an evil Smurfette
Richard Linklater thinks the Before Sunset sequel will happen
Is Underworld: Battle the title of Underworld 5?
Last summer's The Smurfs was stuffed full of talented actors who really deserved better, including Neil Patrick Harris, Hank Azaria, Alan Cummings, Katy Perry, Paul Reubens, and Anton Yelchin, and next summer's The Smurfs 2 looks to be no different. Not only are most of the first film's stars expected to return, the production has now picked up some fresh blood in the form of Christina Ricci. The actress is set to voice Vexi, a new character who serves as an evil parallel to Smurfette (Perry).
Sony has set The Smurfs 2 for a release date of July 31, 2013, with Raja Gosnell at the helm once again. [THR]
Having enjoyed their biggest success yet with Underworld: Awakening, Sony seems eager to get the ball rolling on Underworld 5. Though nothing official has been announced yet, the studio quietly snapped up the domain name UnderworldBattle.com earlier this week, suggesting that Underworld: Battle could be the title of the new film. (That is, if it's not some other franchise-related product like a video game.) This wouldn't be the first time that domain registration has offered early clues regarding a mysterious upcoming project.
As of right now, UnderworldBattle.com simply redirects visitors to a Blu-ray/DVD page for Underworld: Awakening, but whatever Underworld: Battle ends up being, we expect that'll change soon enough. [Fusible]
Although Ethan Hawke and Julie Deply have both expressed their interest in another follow-up to Before Sunrise and Before Sunset, they've been careful to emphasize that nothing's been set in stone just yet and that they want to "find the right thing" before getting started on a third installment. But as the nine-year anniversary of the second film approaches — nine years, of course, being the gap between the first two movies — director Richard Linklater acknowledges that the possibility of another follow-up is starting to look very real:
It's about that time. We didn't know how it would go. The obvious one was doing a second one. Once you do a second, it makes the third more real, like 'Well, you did it once. Why wouldn't you do it again?' We sort of rebelled against that. But then we realized — you joke about it for five years, and talk about it, but we're hitting that same area where it is about that time. We have for the last year, when we're all in the same town, we meet about it. We trade notes. I bet there's something to say there about where they are in their lives. I feel like there's a film in our future. [There's nothing concrete, but] there's definitely a desire there.
Part of me is a bit nervous that a disappointing third film could ruin the bittersweet ending of the second, but then again I had the same fears about Before Sunset before that hit. I think they've earned the benefit of the doubt. [Collider]