Now Theater Chain Execs Are Talking About Allowing Cell Phone Use In Theaters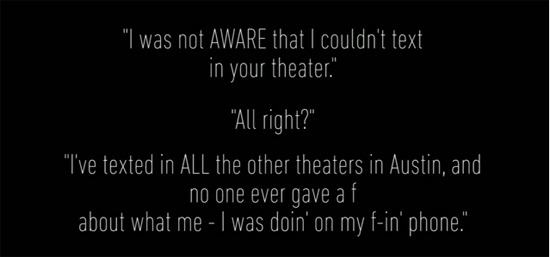 The question of cell phone use in movie theaters continues to be engaged on various levels of the business, despite not being a question at all. There should be no cell phone use — the light and sound are tremendously distracting to other patrons — but that isn't stopping people wondering if kids are so attached to their phones that we might as well just let them use the damn things in a movie theater.
Problem is, now the people doing the wondering are those who own and control movie theaters.
Deadline reports from a panel on industry issues at CinemaCon this week, where some theater chain execs talked about texting and cell use in the theater.
Lets start with Amy Miles, CEO of Regal Entertainment, who said that in order to court younger viewers, the chain has talked about "being more flexible" about phone use at films like 21 Jump Street. "If we had a movie that appealed to a younger demographic, we could test some of these concepts," Miles said. "You're trying to figure out if there's something you can offer in the theater that I would not find appealing but my 18 year old son might," she added.
Greg Foster, of IMAX — you know, the theater chain that relies upon screens that are supposed to fill the room? — talked about his 17-year old son, who is constantly using his phone.
We want them to pay $12 to $14 to come into an auditorium and watch a movie. But they've become accustomed to controlling their own existence.
The problem with denying phone use, he said, is that kids may "feel a little handcuffed." Mr. Foster should perhaps take into consideration that smokers dealt just fine with cigarettes being banned from airplanes, and those things are actually addictive. The kids can deal with it. Meanwhile, you know what raises Foster's lather? Ads for TV shows in movie theaters. The horror!
Fortunately there is Tim League of the Alamo Drafthouse. He spoke up at the panel, vigorously proclaiming that he won't allow phone use in his chain:
Over my dead body will I introduce texting into the movie theater. I love the idea of playing around with a new concept. But that is the scourge of our industry... It's our job to understand that this is a sacred space and we have to teach manners.
I understand that theater chains feel increased pressure to compete against TV, the internet, games, and other entertainments. But the answer is not to allow behavior that will make the experience worse for other people. Cell phone use makes things worse, period.