'G.I. Joe: Retaliation' International Trailer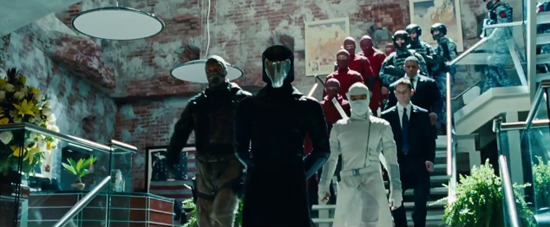 Cinemacon delivered a new trailer for G.I. Joe: Retaliation earlier this week, and now a new international trailer features a great deal of new footage. It's pretty much entirely big, cheesy stuff in which the betrayed Joes battle the devious forces of Cobra with high tech and charming brawn, the latter courtesy of The Rock and Bruce Willis.
But like most of the other footage from Jon M. Chu's sequel, it looks like it might be just as entertaining as it is fluffy. Is it possible that Chu has his the sweet spot for summer movies with this cartoonish action film? Let's hope. Check out the new stuff below.
Am I the only one who was a bit bummed when the last trailer made it clear that Channing Tatum's character wouldn't be present in this one much? 21 Jump Street really helped pull a reversal with him. Regardless, there are enough ninja fights and shape-shifting Cobra baddies to make this worth a look. And Adrianne Palicki, D.J. Cotrona, Byung-hun Lee, Ray Park, RZA, Joseph Mazzello, Elodie Yung, and Walton Goggins all get time, as well.
Retaliation opens on June 29.
A follow-up to the 2009 release of G.I. JOE: RISE OF THE COBRA, which grossed over $300M worldwide, Paramount Pictures, MGM and Skydance Productions, in association with HASBRO and di Bonaventura Pictures, commences production on G.I. JOE: RETALIATION. In this sequel, the G.I. Joes are not only fighting their mortal enemy Cobra; they are forced to contend with threats from within the government that jeopardize their very existence.