First Look: Ang Lee's 'Life Of Pi'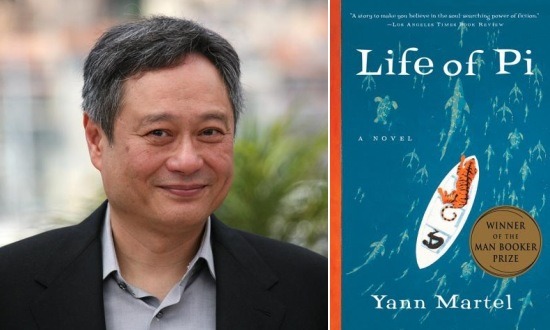 Life of Pi has taken its good sweet time journeying from the bookshelf to the box office. First published in 2001, Yann Martel's novel passed through the hands of M. Night Shyamalan, Alfonso Cuarón, and Jean-Pierre Jeunet before ultimately ending up with Ang Lee in 2009. A tricky adaptation process and budgetary woes helped keep the film in development hell a few years longer, but Lee struggled through and at long last, we finally have our first little peek at the new movie. Hit the jump for a still.
The new photo, first posted by CriterionCast, shows Pi and Richard Parker adrift in the ocean. If you're wondering where all the other animals went, well, I give you one guess as to what happens when you put a bored, hungry tiger in a confined space with a hyena, an orangutan, and a zebra.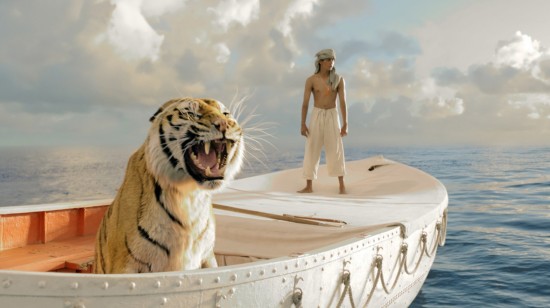 It's a simple image with not a lot going on. We'll have a much better idea of how well Lee pulls off the story's more unusual elements — and its use of 3D — when we get an actual trailer. But this gorgeous shot, with just a hint of magical realism about it, seems like a promising start.
Along with Sharma, who beat out more than 3,000 hopefuls to land the lead role, Life of Pi also stars Irrfan Khan as the grown-up Pi, Adil Hussain and Tabu as Pi's parents, Gérard Depardieu as "The Chef," and Tobey Maguire as a journalist named — surprise — Yann Martel. The film hits December 21.
Pi Patel is an unusual boy. The son of a zookeeper, he has an encyclopedic knowledge of animal behavior, a fervent love of stories, and practices not only his native Hinduism, but also Christianity and Islam. When Pi is sixteen, his family emigrates from India to North America aboard a Japanese cargo ship, along with their zoo animals bound for new homes.
The ship sinks. Pi finds himself alone in a lifeboat, his only companions a hyena, an orangutan, a wounded zebra, and Richard Parker, a 450-pound Bengal tiger. Soon the tiger has dispatched all but Pi, whose fear, knowledge, and cunning allow him to coexist with Richard Parker for 227 days lost at sea. When they finally reach the coast of Mexico, Richard Parker flees to the jungle, never to be seen again. The Japanese authorities who interrogate Pi refuse to believe his story and press him to tell them "the truth." After hours of coercion, Pi tells a second story, a story much less fantastical, much more conventional-but is it more true?