Robert Rodriguez Will Make 'Fire And Ice' After His 'Machete' And 'Sin City' Sequels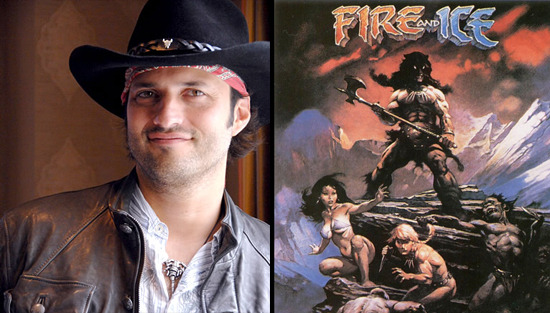 Robert Rodriguez is a director who always has quite a few projects on the burner; he's also a director for whom it isn't unusual to see multiple things coming into focus all at once. In 2012 Rodriguez will shoot Machete Kills, then Sin City: A Dame to Kill For, and then if things go well he'll move right into a new version of the film Fire and Ice. The original is an '80s animated adventure story directed by Ralph Bakshi and designed by Frank Frazetta, with an evil Ice Lord, a fire princess, and a muscular hero out to save the day.
The original film made extensive use of rotoscoping, where animated characters are drawn based on live-action footage, and that technique is, in a way, related to the green-screen work that Rodriguez used for Sin City, and which will be used for his own Fire and Ice.
THR spoke to the director, who said,
That's in the works to go right into after Sin City, Frank Frazetta's Fire and Ice. We're almost done with the script, we've got it pretty much 70 percent there – I'm really excited about that one.
The film was first announced in spring 2010, then talked up a bit last year at Comic Con, along with Rodriguez's plans for a new Heavy Metal. That one remains more or less a mystery, but we do know that rather than using old-fashioned rotoscoping (see the behind the scenes doc below) this version of Fire and Ice will be made with extensive green-screen work. The intent is still to recreate the look and feel of Frank Frazetta paintings.
Here's a BTS looking at the animation of the original Fire and Ice, followed by the film's trailer.