Maggie Gyllenhaal Shines In Victorian-Era Vibrator Romcom 'Hysteria' [Tribeca Review]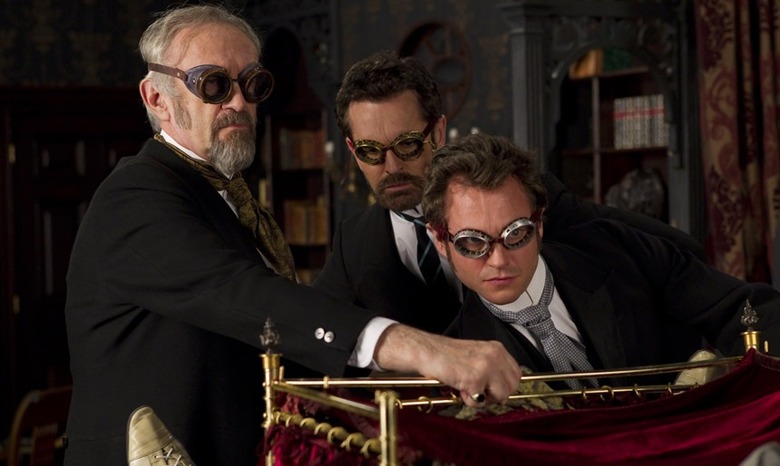 Tanya Wexler's Hysteria boasts the kind of premise that's bound to make viewers sit up and take note: In Victorian-era England, the handsome young Dr. Mortimer Granville (Hugh Dancy) invents the vibrator to help him treat his "hysterical" female patients by inducing paroxysms. (Or as we call it today, masturbating them to orgasm.) That it's based on a true story, or a true-ish one anyway, makes it even more intriguing. So it's a little disappointing that Hysteria is actually much tamer than that description would suggest, but it's got so much charm I found myself enjoying the hell out of it anyway.
If there's one aspect about Hysteria that's genuinely edgy, it's the film's treatment of older female sexuality. It's refreshing to see a movie in which the sexual needs of plainer, older women aren't presented as absurd. While scenes of Dalrymple and Granville pleasuring their patients are played for laughs, the comedy comes at the expense of the oblivious male doctors, not the idea that a woman who looks more like Kathy Bates than Brooklyn Decker might need to get some once in a while.
On the whole, though, Hysteria isn't as original or shocking as it could be. It feels too modern to convey just how radical the characters' ideas would have been for the time, but not modern enough to truly challenge any contemporary mores. The idea of women gaining the vote might have seemed insane at the time, but today it's just a mundane fact of life. And while female sexuality remains a more taboo subject than male sexuality, the movie's portrayal of it is too facile to raise any eyebrows in this day and age. Nevertheless, Wexler manages to mine some very funny material from the chasm between what we thought then and what we know now.
Dancy is likeable as Granville, and Everett gets some of the film's best laugh-out-loud lines, as when he dryly suggests that his doctor friend try the French method of using his tongue to attend to his patients. But Hysteria is really Gyllenhaal's movie. The fiery proto-feminist is a familiar figure from many a period piece, but Gyllenhaal breathes fresh life into the archetype. Her Charlotte is a force of nature, exasperating and inspiring in equal measures, but above all impossible to ignore. Oh, and her Brit accent isn't half bad, either.
This is a character that deserves better, then, than a romantic subplot with Granville that feels oddly shoehorned in. It's as if writers Stephen Dyer and Jonah Lisa Dyer feared they were going too far off the beaten track, and decided at the last minute to impose a more conventional structure. While seeing the various characters bounce off of each other is a pleasure, Granville and Charlotte generate about as much heat as Granville and Dalrymple do. Fortunately, both characters are endearing enough that I couldn't help but root for them to get what they want, even when I wasn't entirely certain why they wanted it. Just as the movie was ultimately too charming for me to resist, even as I realized it wasn't nearly as outre as I'd initially hoped.
/Film rating: 7.0 out of 10.0