Charlie Kaufman To Warp Tweens; Scripting 'Chaos Walking' Film For Lionsgate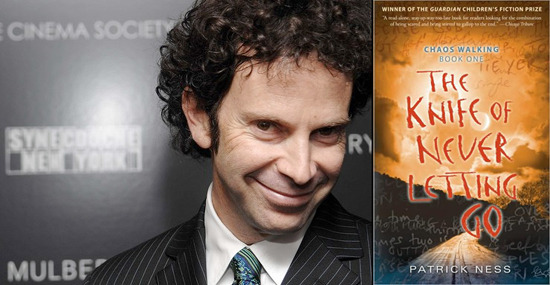 Time to give Lionsgate a round of applause. The studio is already preparing for the days when The Hunger Games is over, and one YA property being groomed as the Next Big Thing is the Patrick Ness series Chaos Walking, about a dystopian future in which all human thought is made audible, leading to great chaos.
It's a pretty high-concept thing, but it also, almost, sounds like the sort of movie that Charlie Kaufman and Michel Gondry might have created together. Now wait — to pen the adaptation of the first book, The Knife of Never Letting Go, Lionsgate and Quadrant Pictures have actually hired Charlie Kaufman!
Deadline says that Kaufman will tackle the first volume of Chaos Walking while he also works on his next directorial effort, Frank or Fancis, and works on a novel which he recently made a deal to write. (This wouldn't be the first 'normal' studio gig Kaufman has had, either, as he has done rewrite work in the past.)
And, yes, the material at hand here certainly sounds ripe for Kaufman:
Todd Hewitt is the only boy in a town of men. Ever since the settlers were infected with the Noise germ, Todd can hear everything the men think, and they hear everything he thinks. Todd is just a month away from becoming a man, but in the midst of the cacophony, he knows that the town is hiding something from him — something so awful Todd is forced to flee with only his dog, whose simple, loyal voice he hears too. With hostile men from the town in pursuit, the two stumble upon a strange and eerily silent creature: a girl. Who is she? Why wasn't she killed by the germ like all the females on New World? Propelled by Todd's gritty narration, readers are in for a white-knuckle journey in which a boy on the cusp of manhood must unlearn everything he knows in order to figure out who he truly is.
But here's the thing: as Deadline notes, the recent trend in YA adaptations has been for screenwriters to create scripts that err on the side of rigid devotion to the source material, rather than finding new directions. The best Harry Potter movies did a good job of cutting when necessary, but they rarely added much.
Kaufman, on the other hand, isn't a guy from whom one expects a word for word adaptation. Take his script for the film Adaptation, which turned Susan Orlean's non-fiction book The Orchid Thief into something very much Kaufman's own. The Orchid Thief is a great book and Adaptation is a great movie, and we're better off with the two existing side by side than we would be if Kaufman or someone else had simply crafted a straight-forward film as a literal adaptation of The Orchid Thief. Let's hope he gets a little wacky with The Knife of Never Letting Go, and the producers like it.