Gallery: The LG Home Theater 3D Sound Advertising Campaign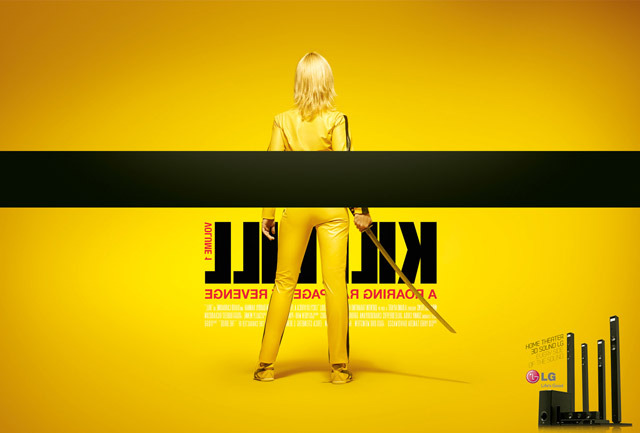 The debate over the need for 3D in the home has been decided and 3D has triumphed. Or at least that's how I feel after being manipulated by this genius ad campaign being run by LG for their new Home Theater 3D Sound System. They took iconic movie posters and flipped them around, showing the posters from alternative angles. After the jump, read more about the campaign and see posters for Kill Bill, Forrest Gump and Pretty Woman.
Check out both the 3D images on their own as well as side by side with the originals from TrendHunter via Gizmodo.
The TrendHunter piece gave some details on the origins of the campaign:
The LG Home Theater 3D Sound ad campaign was conceived and executed by Sao Paolo-based ad agency Y&R. Published in March 2012, the campaign was art directed by Guilherme Rácz with creative direction by Rui Branquinho, Flavio Casarotti, Victor Santanna and Jorge Iervolino. It was photographed by Lúcio Cunha.
Though these ads are for 3D sound (which is the very strange concept of broader channels giving the observer the illusion of depth of sound) they really beg the question of what 3D visuals in the home will become in the future. You have three movies here, reimagined with an additional dimension, much like we've seen in cinemas recently with Titanic, Star Wars Episode 1, The Lion King, etc. Does this suggest that 3D in the home can thrive and expand by doing something similar, converting 2D films to 3D? I feel that, in the home, 3D is best utilized for sports not movies. Movies are meant to be seen on the grandest scale possible and even your $10,000 100 inch LED screen can't compare with a movie theater. If I'm going to see an old movie in 3D at all, I'm not going to do it in the home.
What do you think of this campaign? How do you think it was done? What other movies do you wish they picked?