Darren Aronofsky's 'Noah' Shoots In New York And Iceland; Liam Neeson Still Uncertain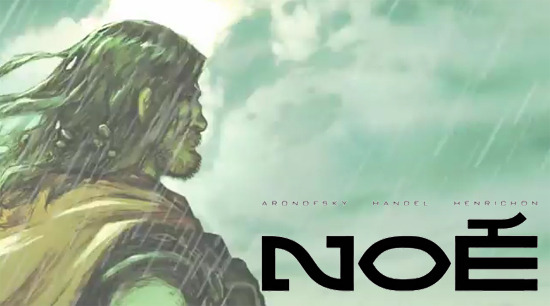 Here's a pretty minor update on Darren Aronofsky's Noah. Just as we get word that The Wolverine, the film Aronofsky was previously set to direct, will shoot in Australia rather than Japan, we've now got basic details on the locations for Noah. The movie, which tells a version of the biblical tale of Noah and his mission to preserve humans and animals against God's cleansing flood, will have location work done in Iceland and New York, with studio work likely done in the latter.
We've seen Iceland used as a location recently for projects like Prometheus, Batman Begins and Game of Thrones, and the country is certainly wonderful for providing a landscape that looks beautiful and slightly alien. Cross reference some of the photos linked there with the art seen in the graphic novel version of Noah and you'll quickly see the appeal of Iceland as a location.
A press release went out yesterday announcing the finalization of deals to have Russell Crowe star in the film, but there is no other cast mentioned. Liam Neeson has been rumored for months, but we'll have to wait for more casting news. You can read that press release below.
HOLLYWOOD, CA (April 22, 2012) – Paramount Pictures and New Regency Productions jointly announced today that Academy Award®-winner Russell Crowe has been cast as Noah in Academy Award®-nominated director Darren Aronofsky's feature film of the same name. Paramount will release the film on March 28, 2014.
Said Aronofsky, "I'd like to thank Paramount and Regency for backing my team's work to breathe new life into the biblical epic. I rejoice that Russell Crowe will be by my side on this adventure. It's his immense talent that helps me to sleep at night. I look forward to being wowed by him every day."
NOAH is a close adaptation of the Biblical story of Noah's Ark. In a world ravaged by human sin, Noah is given a divine mission: to build an Ark to save creation from the coming flood. The screenplay was written by Aronofsky and Ari Handel and revised by Academy Award®-nominated screenwriter John Logan (GLADIATOR, HUGO).
Scott Franklin and Aronofsky of Protozoa Pictures, along with Mary Parent of Disruption Entertainment, will produce the film. The film will be executive produced by Ari Handel (BLACK SWAN), Arnon Milchan of New Regency and Chris Brigham (INCEPTION, ARGO).
The movie will begin shooting this July in Iceland and New York.