New 'Dark Knight Rises' Trailer In Front Of 'The Avengers'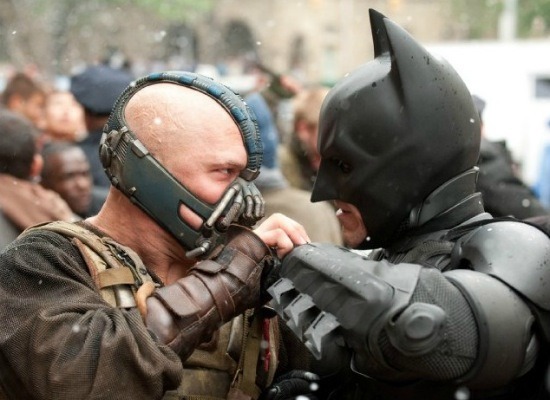 As if you needed more incentive to check out The Avengers on May 4, a Warner Bros. exhibitor site has let it slip that a brand new trailer for Christopher Nolan's The Dark Knight Rises will likely play in front of the Marvel superhero movie. It's not guaranteed though. Read more after the jump.
The news comes from Nolan Fans (via Comic Book Movie) who saw the information on an official Warner Bros. website: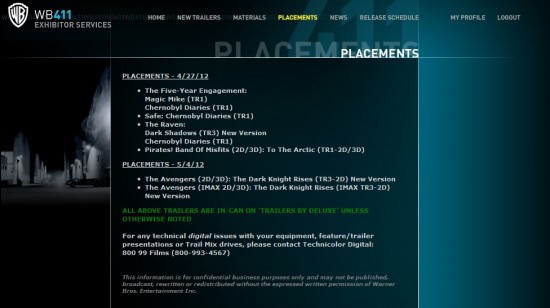 Even with that seeming confirmation, there's no guarantee you'll see The Dark Knight Rises in front of your screening of The Avengers. As you can see above, the trailers are "In Can" which means Warner Bros. sends the trailers to theaters with the strong suggestion they place them somewhere. At the end of the day, though, it's up to the theaters of which trailers run in front of each movie. It makes perfect sense, of course. Advertising the biggest comic book movie of the year in front of the year's other big comic book movie, but because they're different studios, it's not a sure thing.
Since The Avengers is a Disney movie, and not a Warner Bros. movie like Dark Knight Rises, they can only guarantee placement of their own films, usually as the final trailer before the feature starts. (This is called the "attached" trailer.) That'll likely be a new one for Brave or maybe something crazy like an Oz The Great and Powerful teaser. Probably the former.
To be fair, though, Warner Bros. has used the allure of the sure-to-be massive blockbuster in the past. They got IMAX and Paramount to agree to place the first several minutes of their film in front of Mission: Impossible – Ghost Protocol this past December.
Rumor has it this latest trailer for The Dark Knight Rises will be a little more Catwoman centric, which would also make sense, as we've seen a lot of Bane destruction but none of how Selina Kyle fits into the film.
And, of course, the second this new trailer hits the internet, you can expect to find it here.
Do you think placing the trailer for The Dark Knight Rises in front of The Avengers is a smart move for Disney and Warner Bros.?