'Virginia' Trailer: Oscar-Winner Dustin Lance Black's Directorial Debut With Jennifer Connelly And Ed Harris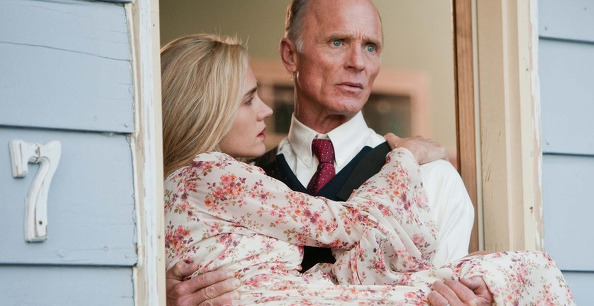 When Dustin Lance Black won the Best Original Screenplay Oscar in 2009 for Milk, his career exploded. He'd already written on HBO's Big Love but now Clint Eastwood wanted him for J. Edgar, he lined up a bunch of upcoming projects and even got to direct a screenplay of his own. That film, originally called What's Wrong With Virginia?, played the Toronto Film Festival in 2010. It was not received well.
The film tells the story of Virginia, a confused, sick mother (Jennifer Connelly), whose questionable actions have an adverse effect on her son (Harrison Gilbertson), the town Sheriff turned Senatorial candidate (Ed Harris) and others too, played by Emma Roberts, Toby Jones, Yeardley Smith, Amy Madigan and others.
Lance Black went back to the drawing board with the film, re-writing and re-editing and finally on May 18, the newly titled Virginia will be released. Watch the trailer after the jump.
Head to Apple to watch the trailer in high definition, via The Playlist.
Here's the plot description of Virginia:
Written and directed by Dustin Lance Black (MILK), VIRGINIA stars Jennifer Connelly in the title role as a beautiful yet unhinged single mother who struggles to raise her son Emmett (Harrison Gilbertson) while dreaming of escaping her small Southern boardwalk town. Her long time affair with the very married, Mormon Sheriff Richard Tipton (Ed Harris) is thrown into question when he decides to run for public office. Things are further complicated when Emmett begins a romantic relationship with Tipton's daughter (Emma Roberts). Virginia and the town–populated by Amy Madigan, Toby Jones, Yeardley Smith–are full of secrets and everyone knows Virginia can only keep things together for so long. VIRGINIA is a funny, touching drama that looks at the American Dream and what it takes to keep it together.
I just saw the new cut of Virginia and while I didn't see the original Toronto cut to compare it with, I can say I didn't find much to connect with. Motivations and characterizations lack any consistency, the tone is all over the place and eventually I was just hoping for it to end. Still, the person next to me clapped enthusiastically after the film.
Does Virginia look like something you'd be interested in?