Sequel Bits: Robert De Niro Not Entirely Opposed To Doing 'Raging Bull 2', Plus: 'Avengers 3', 'Muppets 2', 'Star Trek 2', 'Men In Black 3'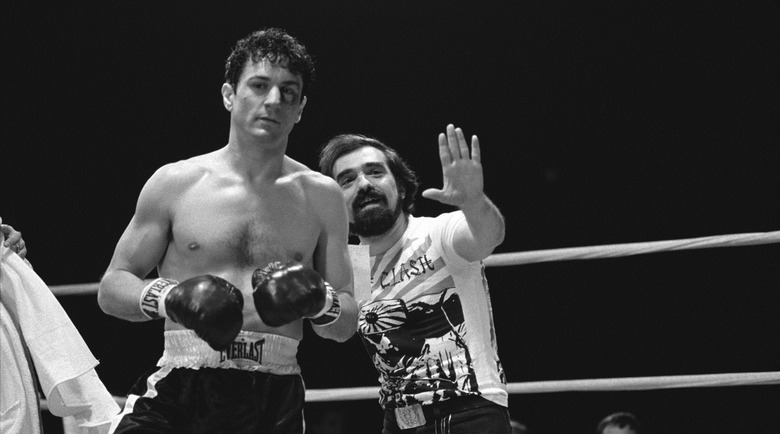 It seems like every longtime Hollywood star is trying to revive their best-loved characters right now, so why should Robert De Niro be any different? He's already working on another Midnight Run, and he's now publicly acknowledged that he's not entirely against doing another Raging Bull, either. Also after the jump:
Nicholas Stoller will ask Jason Segel for notes on Muppets 2
Young Agent K annoys Agent J, goes bowling in new MIB3 pics
More MIB3 footage surfaces in the music video for Pitbull's theme
Marvel's Civil War storyline could maybe appear in Avengers 3
Here's where Star Trek 2 is shooting in Los Angeles this weekend
Here are more Star Trek 2 set photos of Zachary Quinto
"I definitely would want to show [Segel] the script and get his notes," said screenwriter Nicholas Stoller. "He loves the Muppets and knows them so well. I think getting notes from him and getting thoughts from him would be extremely helpful." True, it's no guarantee that Segel will actually agree to help out, but considering how often the two have collaborated in the past, it seems unlikely that Segel would turn Stoller down. We hope. [MTV]
No, we don't know why Midnight Run needs a sequel either, but there's definitely one in the works. At a Tribeca Film Festival panel this week, Robert De Niro affirmed once again that the script is in development. And that's not the only one of his past characters that the star is interested in reviving.
De Niro also stated that he'd be up for reprising his Raging Bull role in the recently announced sequel from Martin Guigui, as long as the "script was good." Which, fine, but I might trust his discernment more if he hadn't just starred in New Year's Eve and Little Fockers. [The Wrap]
It's too soon to say how Men in Black 3 is as a whole, but the early photos and trailers have made one thing very clear: Josh Brolin really does look a lot like a young Tommy Lee Jones. A freshly released series of stills centered around Brolin highlight once again just how strong the resemblance is, as his young K gets the side eye from J (Will Smith) and fights baddies at the bowling alley.
[via MovieWeb]
If you want still more Men in Black 3, it looks like there's some new footage featuring all three leads (Smith, Jones, and Brolin) buried in Pitbull's music video for his movie theme song "Back in Time." I don't know that it's worth listening to that obnoxious track for, but that's why your computer has a mute button. Seriously, don't make the same mistake I did. "Back in Time" may be awful, but through sheer repetitiveness, it also has a way of getting stuck in your head.
Men in Black 3 drops May 25. [The Playlist]
One of the biggest storylines to come out of the original, comic book version of the Marvel universe in recent years is the Civil War crossover, which sees Marvel's various superheroes coming to blows over the Superhuman Registration Act. So naturally, fans have been wondering whether the plot might show up on the big screen at some point in the future.
Well, according to Marvel Studios chief Kevin Feige, it's very much a possibility, but one that probably won't become reality for a little while yet. As reported by the Assemble Live Twitter feed, Feige has said that "Avengers 3 might be a good movie for the Civil War story line." In the meantime, if the previously release clips are any indication, the first Avengers should offer plenty of superhero-on-superhero violence when it opens May 6. [Comic Book Movie]
Star Trek fans residing in the greater Los Angeles area may want to head toward downtown this weekend. According to Before the Trailer, a Paramount Production going by the title "HH Project" (which they believe is actually the untitled Star Trek sequel) is slated to shoot in and around Bunker Hill over the next couple of days:
LOCATION 1: Grand Ave Crosswalk, between Cal Plaza & Wells Fargo Plaza,
LOCATION 2: 350 S Grand Ave,
LOCATION 3: 333 S Grand Ave
LOCATION 4: 650 S Spring St
LOCATION 5: 523 W 6th St
LOCATION 6: 710 S Grand Ave from the 20th-22nd from 7am til 10pm
No doubt this means more unofficial, J.J. Abrams-angering set photos are in our near future. Go to their site for more details.
Speaking of which — if that last glimpse of Spock (Zachary Quinto) in odd, Iron Man-esque gear on the Star Trek 2 set left you curious to see more, MovieWeb has the goods. The only thing I was able to gather from these new snapshots was that the suit is even shinier than I'd previously thought, but perhaps you Star Trek diehards will get more out of it.
Head to MovieWeb to see more along the same lines.