'Horrible Bosses' Director Attached To David Bowie-Inspired Comedy 'Ground Control To Major Tom'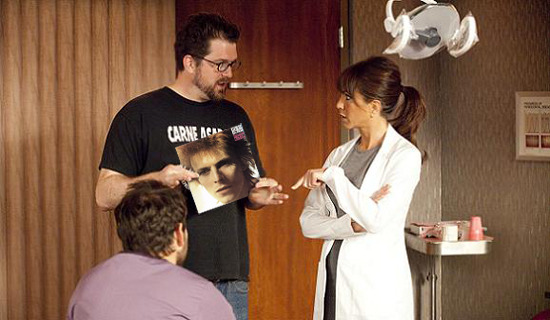 David Bowie has been in semi-retirement for a while now, but he remains a cultural force. Just days ago we saw Michael Fassbender doing his best Bowie as the android David 8 in a promo video for Ridley Scott's Alien prequel Prometheus. His impersonation is uncanny.
Now Bowie is cropping up in a more direct manner, as Disney has just spent a good amount of money on a romantic comedy script called Ground Control to Major Tom. The title references one of Bowie's most famous songs, 'Space Oddity,' but what that really means for the film is unclear at this point.
Deadline reports that Jason Micallef, who wrote the satire Butter, penned the script, which now has Seth Gordon set to direct. Gordon is perhaps best-known for the documentary The King of Kong, and had a hit last year with Horrible Bosses. He's next making the comedy Identity Theft.
As to the script, there are no details available, other than the fact of it being a romantic comedy. It isn't difficult to see how Bowie's lyrics detailing a specific sort of alienation (oh, the puns!) could be inspiration for a romcom in some manner. But as to the specifics, we'll have to wait.
Given the big Disney shakeup this morning, it is interesting to see Deadline announcing that mid-six figures were paid for this script. Is the comedy any good, or is this flailing?