Coming Soon: Subtitle Glasses Enhance The Cinema Experience For Hearing-Impaired Viewers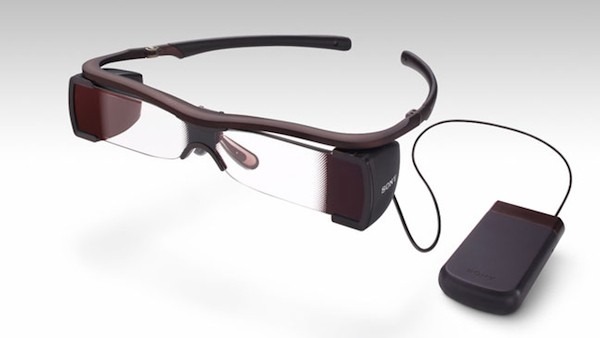 For years there have been a variety of technologies used to provide closed captioning and subtitles in movie theaters — less for foreign films and more to increase accessibility for the hard of hearing.
Now Sony Entertainment and Regal Entertainment Group have partnered to present captions and subtitling via glasses. Access Glasses, as they're called, work with 2D and 3D films, and will be in some theaters this month, with availability in most of Regal's digital houses by the first quarter of 2013.
A press release has some more info; find that below.
Regal provides the following info:
PARK RIDGE, N.J. and KNOXVILLE, Tenn. — In a joint effort to improve the entertainment experience of hearing or visually impaired audience members, Regal Entertainment Group has chosen Sony's Entertainment Access Glasses with audio for practically all of its fully digitized theater locations across the U.S., providing an unsurpassed theater experience and more flexible options for deaf, hard of hearing, blind or visually impaired theater patrons.
The Sony technology consists of specially designed eyewear and a receiver allowing deaf and hard of hearing customers to view closed captioned text in their direct line of sight for both 2D and 3D movies. For blind and visually impaired customers, Sony's Entertainment Access Glasses, paired with headphones, provide descriptive audio tracks. The technology began being deployed in April of 2012 and is expected to be completed by first quarter 2013.
"Regal strives to provide the best experience for all moviegoers and this rollout is the culmination of years of coordination with accessibility advocates, film studios and of course Sony Digital Cinema," said Amy Miles, Chief Executive Officer, Regal Entertainment Group. "By incorporating this technology into the Regal theater experience, we're giving deaf, hard of hearing, blind and visually impaired customers a more convenient and natural way to enjoy the movies. We've worked closely with Sony for the last year testing the technology with audiences and the feedback has been phenomenal."
"Regal has been a valuable partner in helping us bring this important technology to moviegoers," said Gary Johns, senior vice president, Digital Cinema Solutions, Sony Electronics. "Regal's commitment to improving the theater experience and addressing all audience needs is tremendous."
Sony's Entertainment Access Glasses with audio is a groundbreaking means of addressing the growing needs of the deaf, hard of hearing, blind and visually impaired audiences. Sony's Entertainment Access Glasses with audio allows those audiences to enjoy the theater experience in a relaxed, natural way without the inconvenience of separate screening times or special seating.
The new technology is designed to offer customers superb comfort, ease-of-use and direct line-of-sight captioned text verses other technologies that require patrons to shift their focus between the auditorium screen and a separate display unit. The key ingredient in Sony's Entertainment Access Glasses consists of light-weight glasses that are very similar in size to many 3D glasses in use today. Weighing less than 3 ounces (84 grams), the glasses can be programmed to display bright closed caption text in a choice of six languages. The location of the text can be easily adjusted, allowing moviegoers to follow along without having to avert their gaze from the screen or worry about a closed caption device obstructing the screen. A clip-on filter enables 3D viewing while avoiding any blurriness that can occur in other solutions.
Sony's Entertainment Access Glasses technology is available for order now. For more information visit the Sony Digital Cinema website, or see us in person at CinemaCon 2012 at the Sony Digital Cinema booth, #2711 in the Augustus Ballroom, Emperor's level in Caesars Palace.
I like the idea of these glasses a lot, but in practice I don't know if they would be helpful or annoying. I'm very curious to see how they manage the trick of keeping the nearby subtitles in focus at the same time as the film is clear on a different focal plane. For those readers who require closed-captioning, is this tech you're likely to use?