Barry Sonnenfeld Says 'Men In Black 3' Concludes The Trilogy, And Sets Up Reboot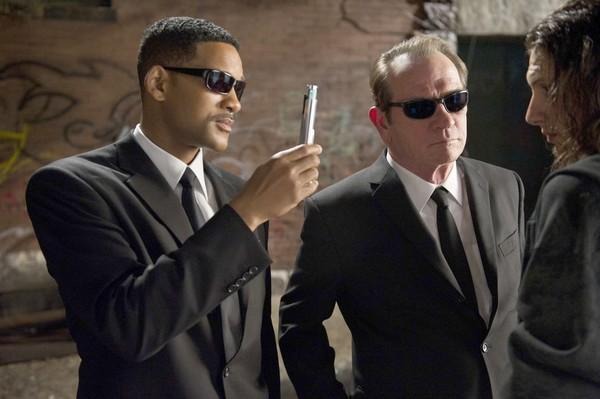 Men in Black 3, which opens in May, has a convoluted history. Conceptualized back during the production of the second film, MiB3 started to shoot last year, but began rolling cameras with a script that was only partially finished, and a schedule that featured an extensive break to work out how the last two thirds of the movie would go.
That led to some unpredictable PR for the movie, and Sony has been trying to assure audiences that the third outing of Agents J and K (Will Smith and Tommy Lee Jones, with Josh Brolin as the young K) will play in the same cartoonishly entertaining manner of the first film.
Director Barry Sonnenfeld is starting to promote the sequel, and in a new interview he inadvertently sheds some light on one of the difficulties that might have faced this particular script: it had to not only do something new with the characters, deal with time travel and wrap up a loose story that had spanned three films. It also has designs on setting up an all-new series of films.
MTV has an extensive interview with Sonnenfeld, the director and one of the driving forces behind the entire film trilogy. There are a few points within that are worth highlighting, but here's the bit about where the series might go next:
The fantastic thing about "Men in Black 3" is that it totally closes out the trilogy, it answers questions that you didn't even know you should be asking, it leaves you emotionally warm and sad and happy, and it could also reboot the franchise. But I can't even begin to tell you how to interpret all of that. [Laughs] But I would say this: If your interpretation is that "Men in Black 4" will only star the worm guys and Frank the pug, you are wrong.
Sonnenfeld also talks about the shoot schedule, and some of the more specific story ideas that we'll see play out in the movie. And asked about the villain, played by Jemaine Clement, he suggests that we'll see a character that is quite a bit like Vincent D'Onofrio's bug from the first film:
Jemaine delivers a totally villainous performance. If there's any comedy at all, it's just through frustration. [Laughs] The great thing about Earth is that it can be a frustrating place for aliens. We don't think clearly, we're not logical all the time. But Jemaine is not on board this movie for comic relief. His performance is really strong and really villainous. Think about it: If you had not seen the first "Men in Black," and people had told you that Tommy lee Jones was funny, you wouldn't have believed it. This is the same thing — no one is trying to be funny. I want my actors to be real. If it's a funny situation, I want it to be funny. But I don't want anyone to play to the comedy. Let the audience find the comedy; I don't want to tell any [of the cast or crew] where it is. So, Jemaine does not deliver a comedic performance. While there are moments of humor that the audience will find funny, Jemaine himself is not being funny, if you get that.