'Magic Mike' Trailer: Channing Tatum Knows How To Work It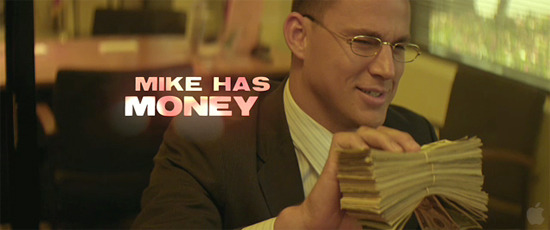 When Steven Soderbergh announced that he would make a film based on experiences Channing Tatum had in his youth as a male stripper, there was some collective eye-rolling and giggling. But Tatum's image has changed a lot in the last few months thanks to 21 Jump Street. We knew the guy had beefcake dance moves (thanks to Step Up) and that he could act (Stop Loss), but films like Dear John kept many from really taking to him.After his effective comic work in 21 Jump Street, however, I think this trailer for Magic Mike will go over a lot better.
Here we see Tatum as a confident guy who knows how to work the stage, but has his ambitions outside the club as well. There isn't much time given to Alex Pettyfer, who plays a protege of Tatum; rather we see his developing romance with a young woman played by relative newcomer Cody Horn.
The good news is: the trailer makes the film look entertaining. It is recognizably in Soderbergh's style, but the sort of work he's been doing lately seems to lend itself well to this story. Check out the footage below.
Apple has the trailer. Magic Mike hits on June 29.
A dramatic comedy set in the world of male strippers, "Magic Mike" is directed by Academy Award(R)-winning director Steven Soderbergh ("Traffic") and stars Channing Tatum in a story inspired by his real life. The film follows Mike (Tatum) as he takes a young dancer called The Kid (Alex Pettyfer) under his wing and schools him in the fine arts of partying, picking up women, and making easy money.