TV Bits: 'Louie' References Woody Allen In New Teaser, Plus: 'Damages', 'Episodes', 'Dexter', 'Holliston'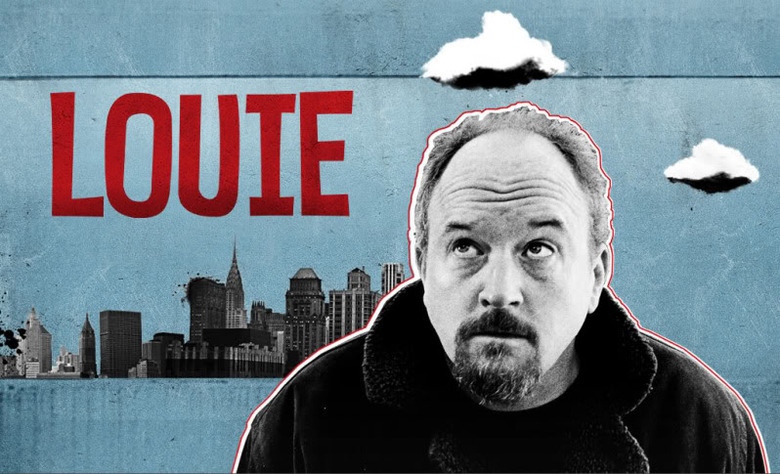 Fans of FX's Louie will no doubt be thrilled to check out this unrevealing but artsy teaser for the show's third season, but it's Showtime that steals most of the spotlight in today's TV Bits. The premium cable network has a new poster for Episodes, a new teaser for Homeland, and possibly even a new love interest for Dexter. Also after the jump:
Damages sets a start date for its fifth and final season
The horror-sitcom Holliston gets renewed for Season 2
AMC mulls over six scripts for possible pilot orders
For comparison, here's the opening of Manhattan:
Ah, Louie, off to a miserable start already. Season 3 bows Thursday, June 28. [The Playlist]
And speaking of summer entertainment, Damages is getting ready to kick off its fifth and final season on Wednesday, July 11 at 9:00 PM. The critically acclaimed Glenn Close-starring drama spent its first three seasons on FX, but as of last season has made itself at home at DirecTV. [Deadline]
Dexter's seventh season won't take off for another five months or so, but the folks at TVGuide.com already have one juicy scoop about an upcoming storyline. "Could Dexter be getting a new lady-love partner-in-crime?" teases editor Natalie Abrams. "It has been a whole season since the vengeful Lumen left Dex, and we're hearing that we'll meet a new lady with a violent past this season — but we also hear she's actually expected to stick around for a while. She's now trying to live a quiet life... until she meets Dexter."
If memory serves, there was at least one lady on the show who already had eyes for Dexter (Michael C. Hall) as of last season's finale. Perhaps a love triangle is in the works? Find out when Dexter returns on September 30. [via SeattlePI]
The hints are a little less cryptic for the other Showtime series returning on that same day, the critically acclaimed Homeland. A new teaser reminds us where Season 1 left off, and though there doesn't seem to be any Season 2 footage in sight, showrunner Alex Gansa offered up some clues in a recent interview. You can head over to TV Line for the (spoiler-y) interview, but first, refresh your memory with the (again, spoiler-filled) trailer below:
[via Cinema Blend]
Meanwhile, the new Season 2 poster for Showtime's Episodes isn't nearly as spoiler-happy, but it does raise an unexpected question: Why is there a question mark missing?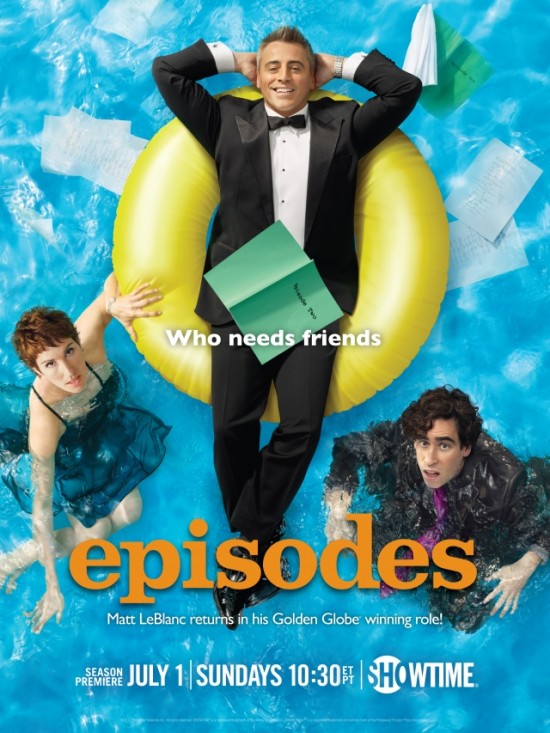 And do you think there's any special meaning to the fact that the "who needs friends" line is hovering over Matt LeBlanc's crotch?
In any case, Episodes will return Sunday, July 1 at 10:30 PM. [TV Line]
Good news for those who like their horror with a heaping side of comedy: FEARnet has just renewed its first original scripted series, Holliston, for a second season, just weeks into the show's freshman run. Created by Adam Green (Hatchet, Frozen), the '80s-set sitcom revolves around a pair of aspiring filmmakers (Green and Knights of Badassdom helmer Joe Lynch) struggling to make ends meet in a small New England town.
Though Holliston isn't a horror series per se, it's set in the world of horror movie fans. Among other things, the series is notable for its cast, which in addition to Green and Lynch also includes Twisted Sister's Dee Snider and GWAR's Oderus Urungus. [Deadline via STYD]
AMC recently began development on one new series, Robert Kirkman's Thief of Thieves, but it's still looking toward rounding out its schedule with some more new shows. The network held its pilot script showcase last week, in which writers and producers of each potential show go up before the network to present their ideas, and has now picked six scripts as likely contenders for pilot orders. According to Deadline, they are:
Chris Mundy's Low Winter Sun, an adaptation of the New Zealand Gothic murder mystery series
Craig Silverstein and Mitchell Akselrad's Turn, about George Washington's spy ring
Richard LaGravenese's Philly Lawyer, about a law student
Jake Paltrow & Robbie Kinberg's Crystal Pines, about a journalist who signs up for a cloning experiment
Jason Cahill's F/V Mean Tide, about a Maine lobster fishing family
Kerry Williamson's Sacred Games, an epic story of crime and punishment in modern Mumbai based on the novel by Vikram Chandra
AMC could order as many as two of those to pilot — or as little as none, as it did after last year's event. Which would you like to see make it to the small screen?