Sequel Bits: Justin Bieber And Lady Gaga Are Aliens In 'Men In Black 3', Cast Returns For 'Machete Kills' & 'Sin City 2', New Poster For 'Piranha 3DD,' 'Beverly Hills Chihuahua 3' Gets Dated, John Hawkes Talks 'Jackie Brown' Prequel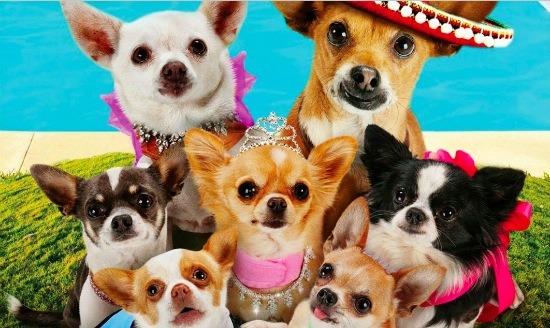 This edition of sequel bits has something for almost everyone. We've got the tweet girls, we've got the teen guys, we've got the family crowd, pet lovers and the horror crowd. After the jump read about the following:
Barry Sonnenfeld confirmed that Justin Bieber and Lady Gaga are both aliens in MIB 3.
Jessica Alba and Michelle Rodriguez will likely be back for Machette Kills 
Michael Madsen says he's back for Sin City: A Dame to Kill For.
A new poster has been revealed for Piranha 3DD.
The third (there was a second?) Beverly Hills Chihuahua film just got a release date.
John Hawkes talks about preparing for Switch, a Jackie Brown prequel
Director Barry Sonnenfeld has weaved several running gags into his Men in Black films and none is more famous or elicits more laughs than the celebrities who adorn the big board inside headquarters. By placing someone on that board, it means the Men in Black are watching them because they're an alien.
Sonnenfeld talked to Collider about the additions to the board in MIB 3, out May 25, and he mentioned a few very famous names:
In this one there are a few people that you'll see up on the surveillance board including Lady Gaga, Tim Burton, who probably knows more about aliens then I do, and let's see who else . . . Justin Bieber.
Bloody Disgusting is reporting that Jessica Alba and Michelle Rodriguez are in talks to return for Robert Rodriguez's Machette Kills, likely reprising their roles from the first film. Machette Kills continues the story of an ass-kicking, lady-loving, ex-Federale played by Danny Trejo.
The Bloody Disgusting article surmises that Machette Kills will shoot before Sin City: A Dame To Kill For but as that's aiming for the summer, it seems like Sin City will now go first. You never know with Rodriguez though.
Speaking of the Sin City sequel, Michael Madsen said in an interview with Smashing Interviews (via Comic Book Movie) that he'd be returning for the film:
I'm doing the sequel to Sin City. That would be Sin City 2. I'm going to Ft. Worth, Texas, and there is supposed to be some sort of a symposium or some Sin City panel where we're going to talk about the film. I'm looking forward to that, too.
Breaking up the text a bit, ComingSoon debuted this busty new poster for the June 1 release of Piranha 3DD. I wonder what this film will be like.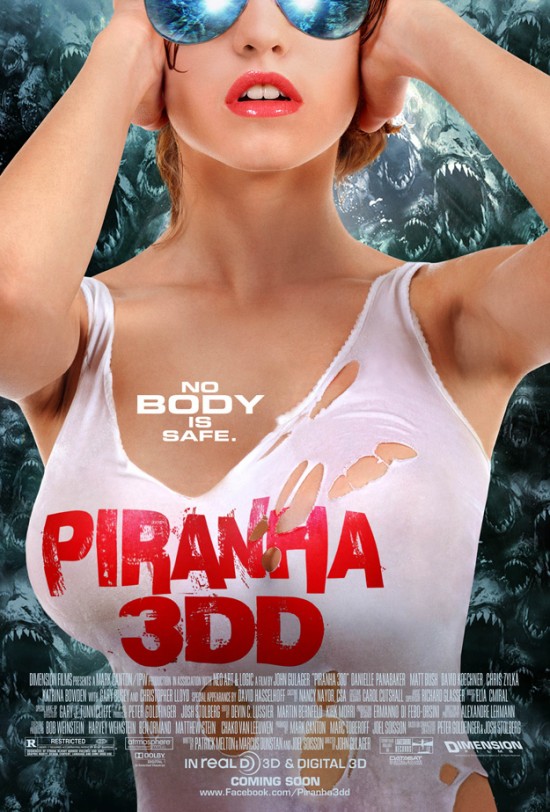 Slightly different from that film, Stitch Kingdom revealed that Disney has a third Beverly Hills Chihuahua set for release on Blu-ray September 18. I literally didn't know there was a second so this is news to me. The film is called Viva La Fiesta! and here's the plot description. This is just too funny to not write about:
Everyone's favorite talking Chihuahuas Papi (voice of George Lopez) and Chloe (voice of Odette Annable ) are back, joined by their five playful pups in an all-new family comedy. It's canine chaos as Papi's family (dog and human) move into the posh Langham Hotel, complete with a luxurious doggy spa. But there's trouble in puppy paradise when Rosa, the littlest member of the pack, feels smaller and less special than ever. Now it's up to Papi to help Rosa find — and celebrate — her inner strength, which turns out to be bigger than she ever dreamed.
And yeah, I've gotta post the cover art. It's too good.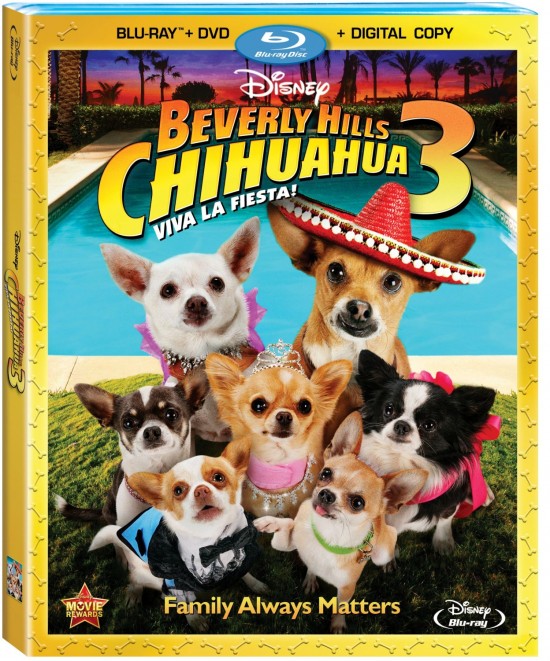 Finally, in an interview with Movieweb, John Hawkes talked about his role in Switch, a prequel to Quentin Tarantino's Jackie Brown, written by Elmore Leonard. In the film Hawkes plays Louis Gara, a role Robert De Niro played in the Tarantino film and Hawkes said he wasn't worried about that performance:
I think the only Tarantino movie I haven't seen is Jackie Brown, and I won't watch it until after I shoot this. I don't think we're supposed to be imitators of Samuel L. Jackson and Robert De Niro, although I think that's what some people expect. Again, I will not have even seen Jackie Brown at that point, and my De Niro impression isn't that great, so I'm just going to approach it like any other film. (Writer-director) Daniel Schechter adapted the novel, I think, really beautifully, and this has kind of been a long time coming.
Switch will likely shoot this summer aimed at a 2013 release date.