'Your Sister's Sister' Trailer: Mark Duplass Is Stuck Between Emily Blunt And Rosemarie Dewitt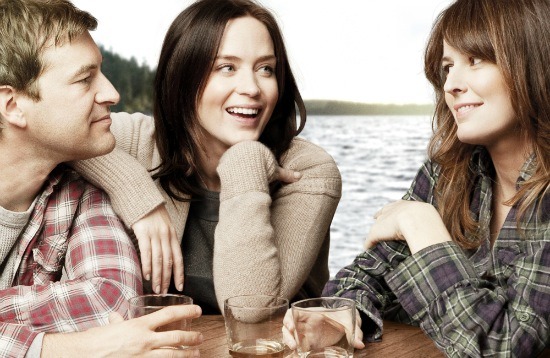 If Sundance 2011 was the year of Brit Marling, Sundance 2012 was the year of Mark Duplass. Of course Marling was the new girl in town that year and Duplass had already been around the block, both as an actor and filmmaker, with movies like The Puffy Chair, Humpday and Baghead. Still, he came to Sundance in January with two movies that provided very different perspectives on his range. There was Safety Not Guaranteed, which showed his wacky, paranoid, lovable side. And then there was Your Sister's Sister, where a rugged exterior and sensitive interior lead the audience to believe two sisters, played by Emily Blunt and Rosemarie Dewitt, can fall for him in the midst of a tragedy. That would be a struggle for any actor but Duplass pulls it off (in both films really) and ultimately is the heart of a unique romantic comedy.
Directed by Lynn Shelton, Your Sister's Sister will be released June 15. The film avoids the typical romantic comedy tropes, instead focusing on authentic characters and unpredictable reality framed in a classic love triangle. Check out the trailer for the film below.
Here's the trailer for Your Sister's Sister:
And here's the official plot description:
The fourth feature from Sundance award-winning filmmaker Lynn Shelton (HUMPDAY), YOUR SISTER'S SISTER is a tale of grief, romance and sibling rivalry that continues to showcase Shelton's extraordinary ability to portray human stories with remarkable humor, sensitivity and warmth.
A year after his brother Tom's death, Jack (Duplass) is an emotionally unstable slacker. When he makes a scene at a memorial party, Tom's ex-girlfriend Iris (Blunt) offers up her family cabin on an island in the Pacific Northwest so Jack can seek catharsis in solitude. Once there, however, he runs into Iris' sister Hannah, a lesbian reeling from the abrupt end of a seven-year relationship who finds solace in the affable Tom's unexpected presence, and the two bond over a long night of drinking. The blurry evening concludes with an awkward sexual incident made worse by Iris' sudden presence at the cabin the next morning which sets into motion a twisted tale of ever-complicated relationships.
With raw, funny and emotional performances from an all-star cast, Shelton once again honestly explores the complexities of interpersonal relationships while gently poking fun at her characters' predicaments.
In my review at Sundance, I said "The chemistry between Blunt, DeWitt and Duplass elevates Your Sister's Sister from a simple love story to something more. Their characters are all flawed, but equally likable and as their relationships get increasing complicated, you can't help but pull for all of them." Ultimately, the film didn't leave me with any deep emotional take away but "it does provide the simple enjoyment of spending 90 minutes with three well-rounded characters."
What do you think of the trailer?