Trailers: 'Quill: The Life Of A Guide Dog', 'Area 407', 'The Aggression Scale', Martin Scorsese-Produced 'Surviving Progress'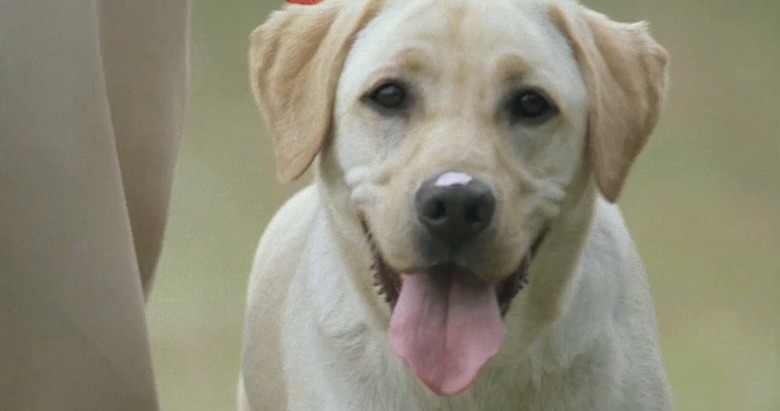 I won't even try to pretend there's a unifying theme among these films, aside from the fact that they're all under-the-radar spring entertainments. After the jump, watch trailers for the found-footage scarefest Area 407, the unabashedly nasty thriller The Aggression Scale, the Martin Scorsese-produced documentary Surviving Progress, and the adorable puppy drama Quill: The Life of a Guide Dog. Like I said — they've got little in common.
[via STYD]
If you're intrigued by the dino-like creatures, Area 407 may appeal to you, but otherwise it looks like your standard-issue found-footage thriller. Area 407 will get a limited theatrical release to coincide with its VOD release, both on April 27.
Steven C. Miller's The Aggression Scale isn't a horror flick per se, but it has the potential to pretty damn disturbing. A sort of twisted take on Home Alone, the plot takes off when a family is attacked by a group of thugs looking for stolen cash. The two adolescent kids run off into the woods, and the younger brother (Ryan Hartwig) gets to put his violent tendencies to good use.
[via STYD]
The Aggression Scale drew mixed reviews after its SXSW debut, with some reviewers delighting in its excessive violence and nastiness and others turned off by same. If you the thought of a dark, low-budget thriller with '80s flavor appeals to you, you can check this one out when it hits May 27.
Now let's totally switch gears and head into thought-provoking documentary mode with the trailer for Surviving Progress. The Scorsese-produced picture ponders the dark side of technological progress, such as its adverse negative impact and its destabilizing influence on certain human populations.
[via Movies.com]
Filmmakers Mathieu Roy and Harold Crooks seem genuinely interested in exploring the many different facets and nuances of those issues, rather than merely advancing a straightforward agenda. Helping them out with that exercise are thinkers like Stephen Hawking, Jane Goodall, Margaret Atwood, and Craig Venter. Surviving Progress is currently playing in New York City, and will roll out to a number of cities around the U.S. over the next several months — check the official site for more info.
And finally, let's finish out with something sweet and simple. Yochi Sai's Quill: The Life of a Guide Dog follows an adorable yellow Lab who gets assigned to help a blind man named Watanabe (Kaoru Kobayashi). Though Watanabe is initially slow to warm up to his new animal companion, the two eventually form a close bond. Watch the trailer below:
[via First Showing]
I imagine even those who tend to dislike subtitles could get on board with this one. You don't need language to understand adorable, affectionate puppies.
Though it's not uncommon for foreign films to take their time hitting our shores, Quill's had a longer journey than most. It initially premiered in Japan all the way back in 2004, but is only now gearing up to hit U.S. theaters, on May 18.