Sequel Bits: No, Jason Segel Won't Cameo In 'The Muppets 2', Plus: 'Expendables 2', 'Star Trek 2', 'Bill & Ted 3', 'G.I. Joe: Retaliation'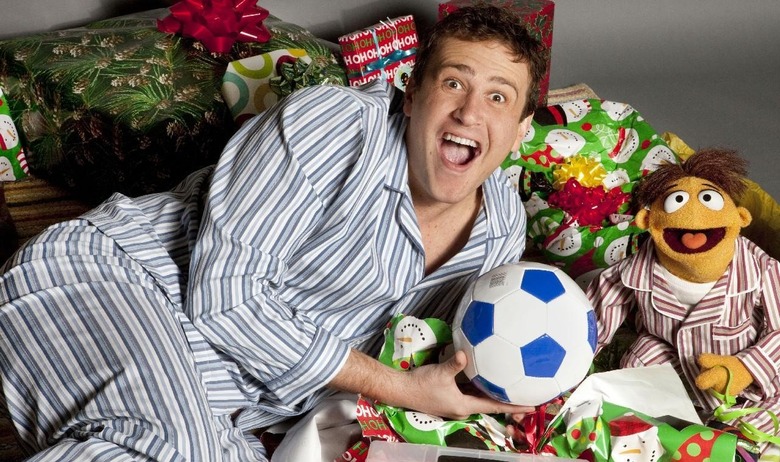 So it looks like Jason Segel won't be a part of that Muppets sequel after all — for real this time, straight from the star/producer/co-writer's mouth. Also after the jump:
The Grim Reaper wants in on Bill & Ted 3
Star Trek 2's Alice Eve has been spending a suspicious amount of time in the makeup chair
Chuck Norris shows off cool, collected badassery in a new Expendables 2 still
More new photos from G.I. Joe: Retaliation
It was a very distinct choice on my part. Of course I was asked to do it. I did exactly what I set out to do, if that makes any sense. My goal was never to take over the helm of 'The Muppets.' They have people who are better equipped for that. My only goal was to bring back the Muppets that I loved. And I did that. I kinda don't know what I have left to do in that regard. I like doing these R-rated comedies. I loved working on 'The Muppets' but, you know, it took me six, seven years. That's a lot of time working with puppets. I think I enjoy acting too much to repeat myself in any way. 'Muppets 2' would feel like repeating myself and I feel like maybe there would be no upside for me either. Well, it wasn't as good as the first. I know where to leave it.
Segel was instrumental in reviving the Muppets franchise for the big screen, but I suppose it makes sense for him to exit at this point. The sequel is in good hands with Stoller and Bobin, and on a story level, there's no real need to bring Gary back. Plus, I'm still secretly holding out hope for a full-length Dracula musical, so maybe Segel not being in Muppets 2 will clear up some space in his calendar... [The Playlist]
Although Alex Winter and Keanu Reeves are set to reprise their roles for Bill & Ted 3 (provided that the film can actually get the green light, that is), we haven't heard much yet on whether we'll be seeing any of the other characters reappear. Like, say, the Grim Reaper, who played a prominent part in the 1991 sequel Bill & Ted's Bogus Journey. The actor who played him, William Sadler, says nothing's locked in at this point, but that he has his fingers crossed.
I'm not sure if it's a done deal yet. I know they're trying to write The Grim Reaper in. Alex said, 'How could we do this without the Reaper?' I'm hopeful. I'd love to go back and play with those guys again. That was one of the most fun roles I've done. I'll be there in a heartbeat, if they want to do it.
I'm hopeful too! Aside from Bill & Ted, I can't think of any Bill & Ted character I'd rather see make a reappearance. [Blastr]
Though the occasional leaked photo has given us a taste of what to expect from J.J. Abrams' Star Trek sequel, there's much about the movie that's still being kept under very tight wraps, including the nature of most of its new characters. A recent comment from star Alice Eve, however, could offer one potential clue.
"I'm a healthy amount of time in the makeup chair — though not as long as Spock," she said. "We were filming til very late last night, and I know that's all I can say. It's a top-secret operation; it's like a war."
Hmm. It doesn't sound like the human Kirk or Uhura spend nearly as long getting dolled up, so could Eve be playing a member of an alien race? Toss out your best guesses in the comments below. [MTV]
I know some of you are still annoyed about Chuck Norris' attempt to push The Expendables 2 toward a PG-13 rating, but maybe this new photo will help smooth things over. Norris looks to be in typical badass mode as he moves, machine gun in hand, away from a burning car that's no doubt on the verge of exploding. It seems to be from the same scene that we glimpsed in the trailer, but this still looks nicer.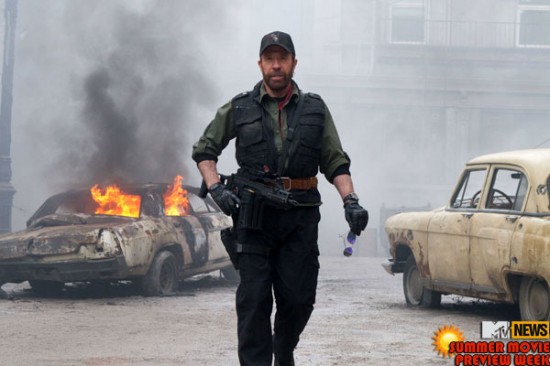 The now R-rated Expendables 2 hits August 17. [MTV]
Speaking of action-packed summer blockbusters, we've also got a grab-bag of new stills from G.I. Joe: Retaliation. Check 'em out below:
[via The Playlist]
Starring Dwayne Johnson, Channing Tatum, Bruce Willis, Adrianne Palicki, Ray Stevenson, and Ray Park, G.I. Joe: Retaliation bursts into theaters June 29.