IKEA Now Making Their Own Television: The Uppleva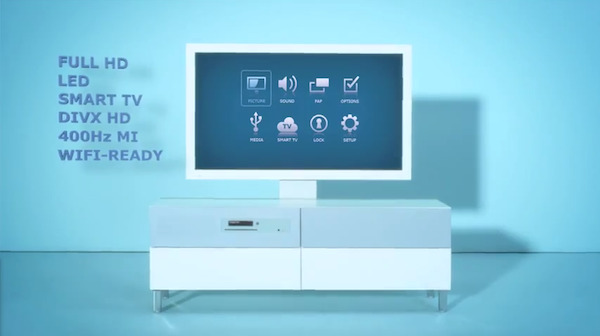 As Apple fans patiently wait for their favorite company to make a long rumored television, another major corporation is stepping into the TV game and this one isn't even known for electronics. It's IKEA, the Swedish company best known for affordable easy-to-assemble furniture. They've just revealed the Uppleva, an all-in-one smart TV that's already part of the furniture. Combining an LED screen with built-in Blu-ray player, speakers, wireless subwoofer and fully customizable housing depending on where you plan on putting it, the Uppleva does a lot of things very right. And some things wrong. Watch a full video and discuss this new piece of tech after the jump.
The below video will introduce the Uppleva and was first posted by Engadget (via Movies.com).
First let's talk about what's pretty great about the Uppleva. As the video plainly shows, constructing a home entertainment system is incredibly difficult and tedious. This streamlines that to the max and gives someone who doesn't really care about a premium sound system (it's only 2.1 as there are no back channels) a high end TV that'll show HD pictures and give them the ability to fully integrate with online options, such as VOD, streaming services and more.
Plus the fact that the size and surrounding cases are customizable means you can either do a huge wall installation or a simple, small table. It's up to you. And in one quick purchase, you just designed your entire room.
Here are the downsides I see. One, it's not 3D. Though there's no guarantee 3D TV has any future, you'd like that to be an option. You'd especially like that to be an option because buying a TV is now a much deeper commitment. With a regular TV, you can upgrade and change whenever you want. Unplug and switch. But with the Uppleva, your TV dictates your entire room. If you want a bigger one or decide to move, it's much more difficult. Of course, this goes in line with the fact that the Uppleva is obviously not for a hard core entertainment person. The focus is clearly on the casual consumer.
The Uppleva is first launching in Europe this Fall and other countries next Spring with a reported base price of $960. There's no US release date just yet.
Do you see this as the next evolution in television or a step back?