Mel Gibson In Talks For 'Machete Kills'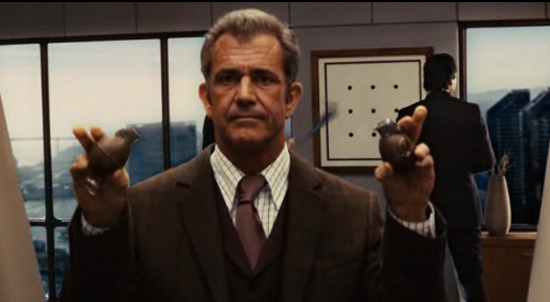 We don't know just what role he'll be playing, but Robert Rodriguez is close to landing Mel Gibson for a supporting role in the sequel Machete Kills. Gibson was recently revealed as a wishlist actor for Rodriguez, who is assembling the cast for an action film that sees Machete working for the US Government. Now the actor is in real talks for the film, which will shoot later this year.
Since we don't know the specifics of Gibson's role, we can only speculate based on this plot recap of the film:
The new film finds Machete recruited by the U.S. Government for a mission which would be impossible for any mortal man. Machete must battle his way through Mexico to take down a madman cartel leader and an eccentric billionaire arms dealer who has hatched a plan to spread war across the planet with a weapon in space. Machete takes on an army in an effort to dismantle a plan for global anarchy.
Not too difficult to speculate that Gibson could be the arms dealer, or one of the government men who sends Machete on his mission.
But there is something else to consider: Sin City: A Dame to Kill For, which Rodriguez is also prepping. that will shoot this summer, with Machete Kills likely lensing afterward. That gives Mel time to sign, but also time to be able to do something else. So we'll see where this goes.
Edit: Actually, it's the other way around: Machete Kills will shoot first, according to THR. While the first film was directed with Ethan Maniquis, Rodriguez says he wants to do this one entirely himself:
Currently I am directing it, but we're checking to see if there's going to be the need for another director if I have to go off and do Sin City. I wasn't sure what the timing on Sin City was or if I would have to step off to do Sin City at a certain point, depending on when Machete went. But Machete looks like it's going to go pretty quickly so it's possible that I will direct the whole thing.
[Deadline]