Loki And Nick Fury Chat, Thor And Iron Man Tussle In Two New 'Avengers' Clips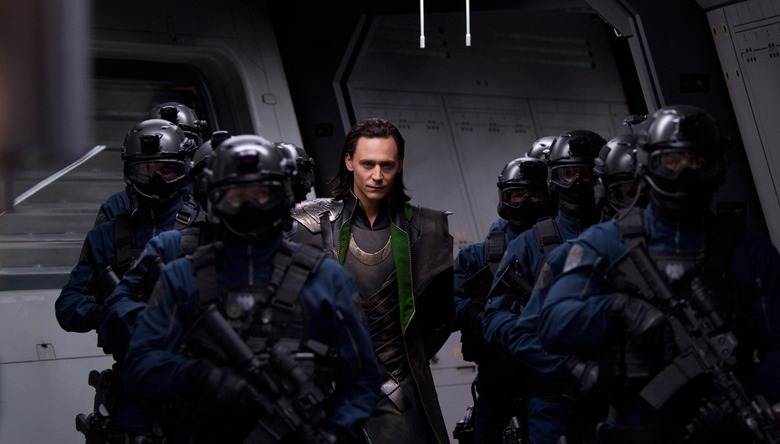 No one could accuse Marvel of being shy about showing off the goods. As the May 4 release of The Avengers approaches, the studio's been dropping clips on a regular basis, and we've got two more for you right here. The first one sees Nick Fury (Samuel L. Jackson) exchanging very angry words with Loki (Tom Hiddleston), while the second sees Loki's beloved brother Thor (Chris Hemsworth) and Iron Man (Robert Downey Jr.) engaged in a no-holds-barred fight against each other. Watch them after the jump.
[via Bleeding Cool]
As the only high-profile baddie facing off against an entire team of powerful and popular superheroes, Hiddleston has his work cut out for him. So far, though, he seems to be pulling it off with aplomb. His Loki is convincingly menacing, which is saying a lot considering how severely outnumbered he's been in most of the clips and trailers we've seen so far, and he has a sly, seductive quality that makes him much more interesting than your typical generic villain.
Now, here's the more action-oriented "Face Off":
[via Coming Soon]
Without any context to go on, I don't really know why these two are fighting each other. Perhaps the Avengers are still getting used to working with one another, or maybe this is just some training exercise. Either way, if you're curious about what kind of action we're in store for, this offers an enticing taste.
Directed by Joss Whedon, The Avengers also stars Chris Evans, Mark Ruffalo, Scarlett Johansson, Jeremy Renner, and Cobie Smulders.
When an unexpected enemy emerges that threatens global safety and security, Nick Fury, Director of the international peacekeeping agency known as S.H.I.E.L.D., finds himself in need of a team to pull the world back from the brink of disaster. Spanning the globe, a daring recruitment effort begins.