Sequel Bits: James Cameron Wants More T-800 In 'Terminator 5', Plus: 'Mission: Impossible 5', 'Cloverfield 2', 'Grown-Ups 2', 'Star Trek' Video Game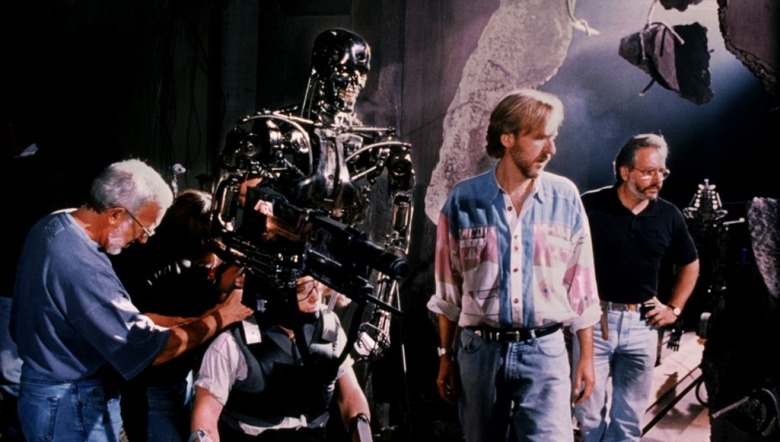 Arnold Schwarzenegger may not be as young as he once was, but James Cameron's convinced that his Terminator character has plenty of life left in him yet. Also after the jump:
Grown-Ups 2 will shoot in Marblehead, MA
Brad Bird probably won't direct Mission: Impossible 5
Cloverfield 2 is still searching for a new idea
The Star Trek video game unveils a new teaser
Last year's Mission: Impossible – Ghost Protocol wasn't just one of the strongest entries in the Mission: Impossible franchise, it was also one of the most enjoyable action flicks of the year. So it's disappointing, if not unsurprising, to hear that director Brad Bird isn't planning to return to the series:
No, I think that one of the things that's fun about the series is that they always pull in a different director and try to get a different kind of take on the premise. I'd probably be open to looking at it, but I think that part of one of the successes of the franchises is that they're always reassessing it with a new director.
Ah, well. The series has worked with some awesome directors, so I look forward to seeing whom they hire next. [Collider]
Now that Drew Goddard's Cabin in the Woods has opened to decent numbers, the writer-director's looking to move on to his next project, and fans of Cloverfield have their fingers crossed for a sequel to the 2008 monster hit. However, Goddard maintains that if he, director Matt Reeves, and producer J.J. Abrams do another Cloverfield, it won't be just for the sake of doing a sequel:
We didn't set out to make a franchise, we set out to make a good movie. But I love that world and that universe, so if there was an idea that excited us enough, and we felt like there was a reason to do it, we would do it. The nice thing about when you work with a guy like J.J., and the power he gets, the studio's not going to force him to do anything. And he has been able to say, we'll do it when we're ready. We're not going to just do it because it will help your bottom line, we're going to do it because there's an idea that excites us. And so that's informed our discussions. We don't feel like we have to, so it's like, Can we come up with something that excites us enough to do it?
Unfortunately, seeing as Goddard, Reeves, and Abrams' busy schedules make it difficult for them to get together much these days, it could be a while yet before the filmmakers find that perfect idea. "We just haven't gotten the three of us together in one room to figure out what we would want to do," Goddard admitted. [Collider]
It'll probably a little while yet before we get to see any actual footage from J.J. Abrams' Star Trek sequel, but the first teaser from the upcoming Namco/Bandai video game is right here:
There's also some lovely concept art to give you a better idea of the look of the game:
Set in Abrams' Star Trek universe between the events of the 2009 film and its 2013 sequel, the Star Trek game will be released in early 2013 for XBox 360 and Playstation 3. Head to TrekMovie.com for more details.
James Cameron may not be directly involved in the next Terminator, but it's no secret that he's been in on talks with star Arnold Schwarzenegger and would-be director Justin Lin. According to Cameron himself, at least one of things he discussed with Schwarzenegger were his thoughts on what the focus of the next installment should be.
I was talking to him back in fall about a new 'Terminator' film and quietly advising on that, I suppose you could say. [...] I was trying to be as encouraging as possible. Frankly, at that time, I thought it needed to be more about him. I told him he should not do it until it's focused on his character or he shouldn't do it. I think there are some great stories that can be told about that character that haven't even been thought of yet.
Are you hoping Schwarzenegger will take Cameron's advice, or are you over the T-800? [MTV]