Julianne Moore May Be The Domineering, Fundamentalist Mom In 'Carrie' [Updated]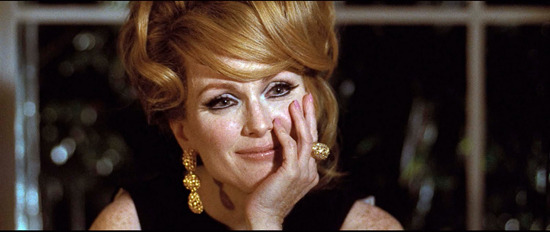 One of the great pleasures of Brian De Palma's original film adaptation of Stephen King's novel Carrie is the ravenous scenery chewing by Piper Laurie as the sex-fearing, fundamentalist mother of young telekinetic Carrie White. Sissy Spacek played Carrie in the original, and Chloe Grace Moretz will incarnate the character in a new film version to be directed by Kimberly Peirce (Boys Don't Cry, Stop Loss).
We've heard a few possible names under consideration to play Carrie's overbearing mom, but if the current report is correct we'll see Julianne Moore imploring her daughter to reject her burgeoning sexuality and psychic powers.
Update: In addition to today's news that parts of Carrie will use a found-footage approach, Deadline says that MGM has formally offered this role to Moore.Bloody Disgusting says Moore is in talks to play Margaret White.
Moore is no stranger to the horror/thriller, having been in films such as Hannibal and the strange shot-for-shot recreation of Psycho. She also anchored Todd Haynes' unusual modern horror film Safe in 1995. (In that film her character was named Carol White; no relation, but the emotional distance of the character is not so different from the fears and alienation of the character in Carrie.) I expect some comments, too, on the potentially amusing one-two punch of Moore playing Sarah Palin and then Margaret White.
Roberto Aguirre-Sacasa, a writer with a resume that has recently expanded to include plays, television, film, and comics, is scripting based on King's novel. Reportedly his take is more faithful to the novel than the De Palma film was, though precisely what will result from that faithfulness remains to be seen.Carrie is slated for release on March 15, 2013.