'The Avengers' Talk/Tease Newly Filmed Bonus Scene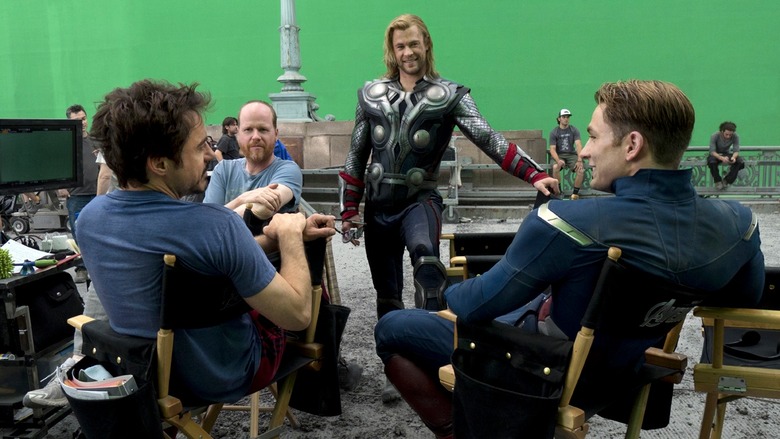 The news that Joss Whedon and his Avengers cast were shooting one more scene last week, following the film's premiere, was pure speculation porn. We all started to imagine what Robert Downey Jr., Chris Hemsworth, Mark Ruffalo, Scarlett Johansson, Samuel L. Jackson, Jeremy Renner and Chris Evans could possibly be filming, especially after having seen the movie complete with a credits tease already intact.
Once the info was out there, seemingly every interview with the stars or filmmakers asked about the scene, which was officially shot, and some outlets even got answers. After the jump, you can see Evans, Hemsworth, Downey Jr. and Ruffalo joke about it and then we'll add some educated speculation to the conversation.
Here are two interviews with cast members, courtesy of Access Hollywood (via Comic Book Movie).
First is Ruffalo and Downey Jr., who confirm that the scene was shot but joke that they don't know how or where it can fit in. Be aware, as the convo veers away from talk of the new scene, there's a minor spoiler or two to be had.
Next is Evans and Hemsworth who give even less of an answer, but provide two really funny options.
Now, let's get serious without getting too much into actual spoilers. There is a major tag halfway through the credits that fans are really going to enjoy and that will obviously still be in there. Originally my thought was this additional scene could be used in Iron Man 3, but Marvel Studios President Kevin Feige has stated that film will be much more Iron Man centric. That suggests this scene will have to come after the credits for those who stay all the way to the end.
Now I have to get into a few spoilers regarding the film so run away if need be.
At the end of The Avengers, most of the members go their separate ways. If the scene just included one or two characters, it would make sense, but to get everyone back seems logistically impossible, especially after the film's ending and some Nick Fury dialogue. Personally, I think it'll be some sort of montage showing all the members of the team, on their own, recieving some sort of means of communication S.H.I.E.L.D can use in the future to assemble The Avengers once again.
What do you think?