Video From The Set Of Louis Leterrier's Illusionist Thriller 'Now You See Me'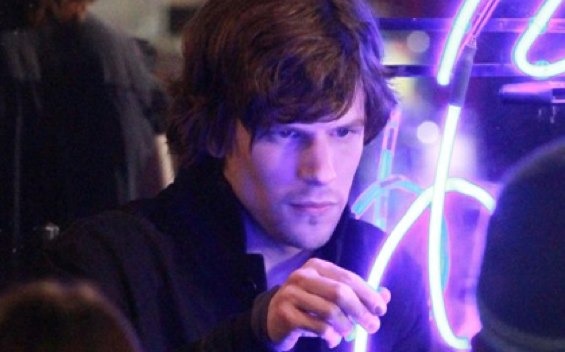 One of the wildcard films of 2012 is Now You See Me, directed by Louis Leterrier (The Incredible Hulk, Clash of the Titans).
Jesse Eisenberg, Woody Harrelson, Isla Fisher and Dave Franco play The Four Horsemen, a group of illusionists that perform big business heists even as they're on stage doing their magic act. Hot on their heels is FBI agent Mark Ruffalo and an Interpol agent played by Melanie Laurent. The film also features Common, Morgan Freeman, and Michael Caine. That cast, combined with the premise, has locked my interest in the film.
The first video look at the project is now available in the form of a set visit report from Entertainment Tonight. Check that out below.
Jesse Eisenberg explains that he plays a sleight of hand magician who also considers himself a "sleight of mind" magician, convincing audiences that they're seeing things that aren't there. And Isla Fisher explains the Robin Hood/happy anarchist mindset of the Four Horsemen. And Caine calls himself a "very very tough, very very rich Bernie Madoff-type swindler."
Now You See Me was written by Boaz Yakin (Prince of Persia: The Sands of Time) and Edward Ricourt, with rewrites by Josh Applebaum & Andre Nemec (Mission: Impossible – Ghost Protocol), and Ed Solomon (Men in Black). The release date is January 18th, 2013.
The Four Horsemen, a magic super-group led by the charismatic ATLAS (Jesse Eisenberg), perform a pair of high-tech magic shows, first astonishing audiences by robbing a bank on another continent, and then exposing a white-collar criminal and funneling his millions into the audience members' bank accounts.
FBI Special Agent DYLAN (Mark Ruffalo) is determined to make the magicians pay for their crimes—and to stop them before they pull off what promises to be an even more audacious heist. But he's forced to partner with ALMA (Melanie Laurent), an Interpol detective about whom he is instantly suspicious. Out of desperation he turns to THADDEUS (Morgan Freeman), a famed magic debunker, who claims the bank heist was accomplished using disguises and video trickery. One thing Dylan and Alma agree on is that the Horsemen must have an outside point person, and that finding him (or her) is key to ending the magicians' crime spree. Could it be Thaddeus? Or Alma? Or could it really be...magic?
As pressure mounts and the world awaits the Horsemen's spectacular final trick, Dylan and Alma race to find an answer. But it soon becomes painfully clear that staying one step ahead of these masters of illusion is beyond the skills of any one man—or woman.
[ET]