Edgar Wright Sorta Launches His First Comic Book: 'The Random Adventures Of Brandon Generator'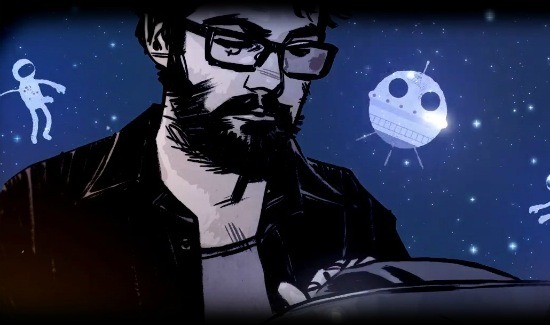 While fans patiently wait for Edgar Wright to get back behind the camera after Scott Pilgrim vs. The World, the filmmaker has been busy getting into a new medium: comic books. But not paper and ink comic books, Wright has written an online motion comic that he and his co-creators are urging the fans to help them finish. It's called The Random Adventures of Brandon Generator and it follows a writer whose lack of creativity has driven him to a very dark and lonely place. Then, one day, he passes out and wakes up with a bunch of ideas he doesn't remember coming up with.
The first episode is now online and, after you watch it, the comic turns into an interactive flash game where you can give Brandon ideas and influence the next chapter of his story. Read more after the jump.
You can watch the first episode of The Random Adventuers of Brandon Generator, and the rest in the coming months, by going to www.brandongenerator.com.
Once you watch the first episode, or even before really, you can write scenarios, draw drawings or leave comments that the creators will then take and use for the next episode. It's not directly user created, but heavily user influenced.
The Random Adventuers of Brandon Generator is written by Edgar Wright, drawn by Tommy Lee Edwards, narrated by Julian Barratt and features music by Unloved. All of their contributions fit together well, making for an entertaining watch. However, the main voice of the piece (not literally of course) is definitely Wright's. Brandon Generator is filled with his love of pop culture, creative insights and fun tangents. One can only hope Wright isn't drawing from too much personal experience, though, because then the whole thing could potentially be viewed as a meta, veiled way to explain why The World's End hasn't been written yet. Which, to be fair, would be kind of hilarious.
Here's the official description of the project from the main site.
 IS THIS A MOVIE YOU WATCH? A GAME YOU PLAY? A COMIC YOU READ? IT'S ALL OF THESE. IT'S A WEB EXPERIENCE TO ENJOY AND IMMERSE YOURSELF IN. YOU GET THE CHANCE TO HELP SHAPE THE STORY AND THE ARTWORK AS BRANDON'S RANDOM ADVENTURES UNFOLD.
BRANDON IS A WOULD-BE WRITER WHOSE WORLD UNRAVELS AS HE SEEKS TO BREAK THE DAM IN HIS HEAD AND LET IDEAS FLOOD OUT. HE NEEDS INSPIRATION. HE NEEDS AN INTERVENTION. HE NEEDS YOUR HELP.
BRANDON GENERATOR IS A PRODUCTION BY WINDOWS INTERNET EXPLORER, WRITTEN BY AWARD-WINNING CREATOR OF 'SHAUN OF THE DEAD' EDGAR WRIGHT AND ILLUSTRATED BY RENOWNED MARVEL AND LUCASFILM ARTIST TOMMY LEE EDWARDS. IT IS NARRATED BY THE MIGHTY BOOSH"S JULIAN BARRATT WITH MUSIC BY UNLOVED (UNLOVED ARE DAVID HOLMES, KEEFUS GREEN AND JADE VINCENT).