TV Bits: 'Flintstones' Reboot Put On Hold; 'Office' Reboot And 'Californication' Spinoff Being Floated; Donald Glover Returning To '30 Rock'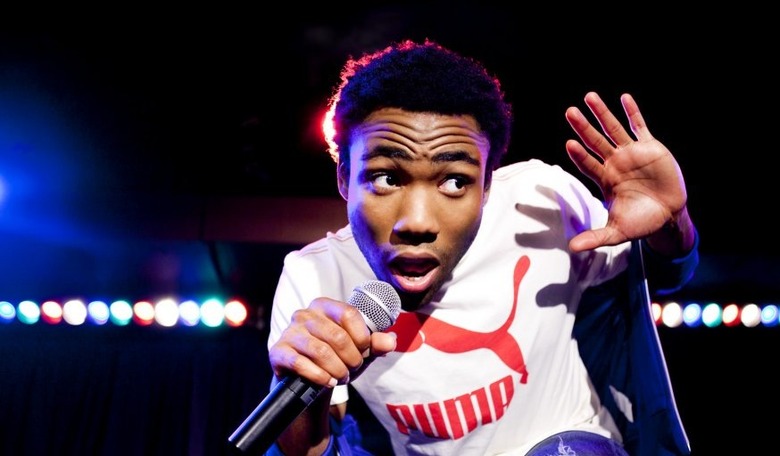 Donald Glover may have lost the campaign to play Spider-Man, but he'll be set to portray another great American hero: Tracy Jordan. Also after the jump:
The Flintstones reboot gets put on hold
NBC considers an Office sorta-reboot
Showtime sets up a Californication spinoff
Though The Office has long been the anchor of NBC's Thursday night lineup, the future of the series hasn't looked so promising lately. With Rainn Wilson and Paul Lieberstein departing for the Dwight Schrute-centric spin-off, Mindy Kaling likely headed to work on her Fox pilot, and none of the core cast members (John Krasinski, Ed Helms, Jenna Fischer, and B.J. Novak) locked in for next season, we've been wondering how the network planned to keep the show going, or even if it wanted to keep going at all. As it turns out, though, exec producer Greg Daniels is pitching one very bold idea.
Deadline reports that Daniels is talking to NBC about a potential reboot of the workplace sitcom, which would center around a mix of old and new characters — similar, perhaps, to what ABC did with Scrubs. But the reboot is far from certain. NBC isn't expected to make a decision until it reviews its pilots for next season, and even then the word is that they haven't ruled out another, regular season of The Office.
Speaking of reboots...
Family Guy creator Seth MacFarlane lobbied for years to get the rights to The Flintstones before finally getting the go-ahead last spring, but it looks like the project will stay on hold just a little while longer. The Flintstones was scheduled to enter production last fall for a 2013 launch, but got off track because MacFarlane was already juggling four series (Family Guy, The Cleveland Show, American Dad, and the upcoming Cosmos) and his directorial debut Ted.
Now MacFarlane has announced that he's hitting pause on the reboot for the moment, as he's simply too busy. So those who've been dreading MacFarlane's take on the material can breathe a sigh of relief, while diehard MacFarlane lovers can comfort themselves with the five hundred or so other projects on his upcoming slate. [Deadline]
Before Donald Glover was bromancing Danny Pudi on Community, he was a writer on NBC's 30 Rock. And as the comedy prepares to do another live episode, Glover has signed on for a brief return. TV Line reveals that Glover will play a younger version of Tracy Jordan, the unhinged TGS star played in the present day by Tracy Morgan. "Donald does an excellent Tracy Morgan-slash-Jordan impression," notes exec producer Robert Carlock.
Glover has previously subbed in for Morgan on "Werewolf Bar Mitzvah," from the first season of the series; Glover's voice can be heard in the extended version of the track. "Tracy wasn't available, so Donald came in and [performed the extra material]," Carlock explained "I don't think you can tell. It's pretty remarkable. All the spoken stuff is Donald doing Tracy." [Vulture]