'The Avengers' Cast Are Shooting An Extra Scene Tonight [Updated]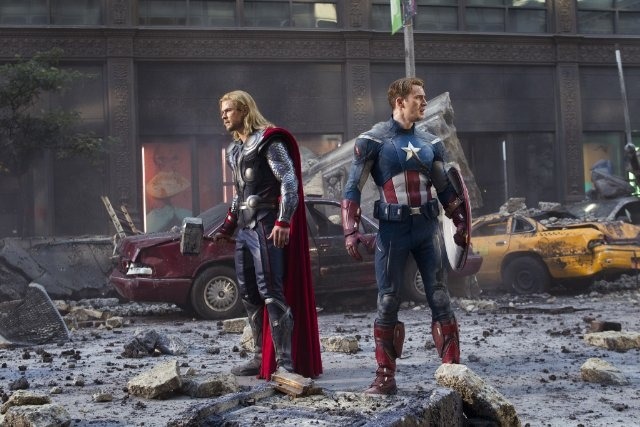 The Avengers premiered last night in Hollywood (you can read some twitter reactions here). I was in attendance but I'm not allowed to write a proper review of the film just yet. I will tell you that it seemed like the print we screened was a completely finished movie.
It even had an extra bonus scene in the credits, something we've come to love about the Marvel films. I'm not going to spoil that scene at all, other than to say it hints at a possible Avengers sequel a few years down the line. The scene appears at the conclusion of the animated star credit sequence, and right before the full credit scroll begins. This is worth noting because Marvel usually puts their extra "button" scenes at the conclusion of the full credit scroll. But the cut we saw had nothing at the end of the reel.
Could they have left something out for the premiere? Marvel famously left the Samuel L Jackson's surprise appearance as Nick Fury off the end of Iron Man when they first screened it to the press, so its possible.
What if I told you they might have an extra end credits scene no one has seen yet? What if I told you the reason no one has seen it yet is because they might even be filming it tonight? Details after the jump.
/Film's Germain Lussier attended the press junket for The Avengers today. At the end of the press conference with the cast and crew, Robert Downey Jr. made a claim that the cast and crew were going to shoot one last remaining scene tonight after the junket.
The crowd laughed, but Marvel Studios head Kevin Feige seemed notably irritated that Downey had made the comment. Could it be that he let the cat out of the bag? Or was Feige just angry that he was starting false rumors, which could lead to undeliverable expectations?
As the crowd was abuzz, Downey responded that he wasn't kidding. And then, wait for it, said "No more questions!" At that point, the cast and crew exited the stage, leaving all the geek journalists wondering if Downey was joking or was he telling the truth.
Germain had a one on one interview with Feige afterward and asked him point blank if they were filming another scene for The Avengers. Kevin responded "Do you always trust everything Robert Downey Jr. tells you?" So take that for whatever its worth. Note that he didn't deny the claim, and why would he want people to speculate about something that might not exist — especially if it would leave some fanboys disappointed?
Update: Director Joss Whedon also later denied the claim in another press conference.Update #2: Mark Ruffalo has confirmed to The Playlist that they are in fact shooting an extra scene for The Avengers tonight:
"We're shooting a scene tonight. I'm not sure exactly where it's gonna go. All I know is that someone came in with the costume and said, 'Here's some wardrobe. We don't know where you're going to be or what you're doing.' " Ruffalo said. We asked if it will be in the "The Avengers" when it hits theaters Ruffalo added, "Yeah. So I'm like, 'All right, when are we doing that?' Today after we're done."
So lets be clear — right now lets treat this whole thing as just a rumor. It could be nothing. It could be a joke by Downey that fanboys and bloggers are grabbing onto because they want it to be true. And there is a good possibility it could be THAT.
But lets spend a minute and play the 100% fun speculation game:
Since the first tag teases an eventual Avengers sequel, one would assume that a second end-credits tag would tease one of their upcoming films — Iron Man 3, Captain America 2, Thor 2 or... maybe something else? Something new?
Remember that Joss Whedon shot the end credits sequence for Thor. From what I recall, he shot the sequence months after the film had ended production. He shot it partly to test 3D camera rigs to see if he wanted to use them on The Avengers.
Edgar Wright has been attached to a big screen adaptation of Marvel's Ant-Man for years now. Last I heard, Marvel was very happy with Wright's script and wanted to greenlight the film. I heard that almost a year ago, and nothing has come of it.
This leads us to this tweet that we featured last week in Page 2:
Was just back behind the camera for the first time in nearly two years. Can't say on what, but it was cool...
— edgarwright (@edgarwright) April 5, 2012
Could Edgar Wright and Ant-Man possibly be involved? Could the secret project that Edgar shot last week be a test for whatever might be going on tonight? Let the speculation begin...
Update #3: Kevin Feige smashes my fun piece of speculation by confirming that Edgar Wright did not shoot something for Marvel last week. Here is the quote from Collider:
He did not. But I saw that tweet as well and thought, "Did he do something for us? No?" No, it wasn't for us. But pay attention to his tweets in the coming months; that answer might change.