Brad Pitt And Javier Bardem Now Confirmed For Ridley Scott's 'The Counselor', Angelina Jolie "Very Likely"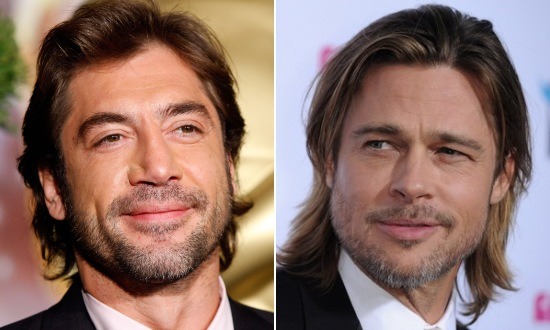 It seems like Jeremy Renner's been up for every juicy role in Hollywood these past couple of years, but apparently even he's no match for Javier Bardem. Both went up last month for Ridley Scott's Cormac McCarthy-scripted thriller The Counselor, with Bardem said to be the preferred choice, and indeed, the Spanish star has now officially sealed the deal. Also just locked is Brad Pitt, who was first rumored for the picture a few weeks ago. The pair join lead Michael Fassbender, who — despite all the A-list interest in Scott's latest project — was the only confirmed star up to this point.
Meanwhile, it's looking increasingly likely that Pitt's Mr. and Mrs. Smith co-star / real-life partner Angelina Jolie will board the cast as well, in a more significant role than we previously suspected. More details after the jump.
Pitt is set for the supporting role of enigmatic, slimy Westray, who aids in the Counselor and Reiner's criminal dealings. The Counselor is scheduled to begin production in June.
Interestingly, Twitch says that Jolie is "very likely" for the female lead, though Vulture reported earlier this week that she was only considering a "small part." I'm not sure whether the two outlets are referring to different characters, or whether the female lead simply isn't that big a role (i.e., all the central characters are male). Since Natalie Portman is said to be circling the part of Fassbender's wife, and we haven't heard anything about Jolie displacing Portman, Jolie is probably negotiating to play Reiner's lover Malkina. The character actually sounds like a pretty perfect fit for Jolie: a mysterious, sexy, femme fatale type who's "probably the meatiest part in the script," according to The Playlist.