TV Bits: AMC Developing 'Thief Of Thieves' From 'Walking Dead' Creator Robert Kirkman, Plus: 'Married... With Children', 'Mockingbird Lane', Charlie Sheen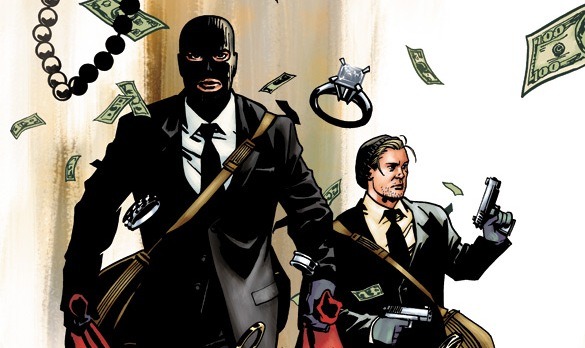 In today's TV Bits, Uma Thurman puts on her dancing shoes and Charlie Sheen comes back from the dead. After the jump:
AMC picks up another Robert Kirkman comic, Thief of Thieves
Charlie Sheen's Anger Management gets a new teaser
Uma Thurman does her best Marilyn impression for Smash
Fox revisits the first episode of its first show, Married... With Children
NBC unveils some concept art for its Munsters reboot
Thief of Thieves reunites Kirkman with Walking Dead producer David Alpert and former Walking Dead executive producer Chic Eglee, the latter of whom will serve as showrunner if Thief of Thieves gets picked up to series. The show, like the comic, will follow "a master thief with a dual identity who, while struggling to quit the business, opts to steal only what has already been stolen." [THR]
I hope you've enjoyed the relatively Charlie Sheen-free peace and quiet while it lasted. The former Two and a Half Men star is slated to return to television this summer with Anger Management. The new FX comedy series features Sheen as an off-center therapist battling anger issues, both in himself and in his patients. The first teaser doesn't reveal much in the way of actual footage, but it does set up a dark, twisted comedic tone.
Anger Management debuts the first two installments of its ten-episode first season on June 28 at 9:00 PM and 9:30 PM. [Cinema Blend]
It's hard to imagine anyone topping Michelle Williams' Oscar-nominated Marilyn Monroe impression from My Week With Marilyn, but Uma Thurman will try her best. Sort of. Actually, Thurman is boarding NBC's musical drama Smash for a five-episode arc as Rebecca Duvall, an actress who plays the iconic movie star in a Broadway show about Monroe's life. Listen to her try on Monroe's breathy singing voice below:

THR also has stills of Thurman as Duvall as Monroe, where it's even more obvious that Thurman doesn't actually look all that much like the late actress. Nice pipes, though. Smash airs Mondays at 10:00 PM on NBC. [HuffPo]
As Fox near its quarter-century mark, the network is making big plans for its birthday. It's already got a slew of former Fox stars lined up to appear in a two-hour 25th anniversary special on Sunday, April 22, and now it's scheduled two of its biggest-ever hits as lead-ins. The pilot episode of Married... With Children, Fox's first ever primetime show, will air at 7:00 PM that night, followed by the 500th episode of its longest-running series, The Simpsons. [Deadline]
NBC has offered up the first look at concept art from Mockingbird Lane, a reboot of The Munsters from Bryan Singer and Bryan Fuller. Fans of Fuller's last series, Pushing Daisies, will know to expect some eye-popping visuals from Mockingbird Lane, and the new artwork doesn't disappoint: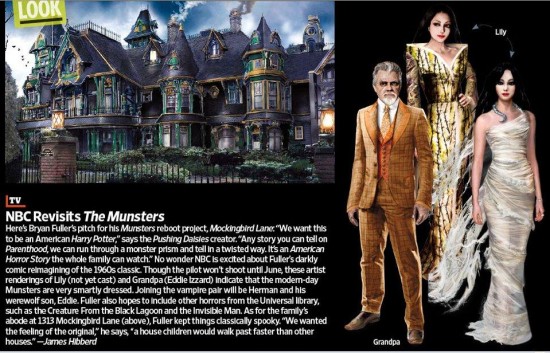 I love how Lily's white dress evokes spooky things — mummies, cobwebs — without being too on the nose about it, and I look forward to seeing Eddie Izzard (currently the only star signed on) rock the hell out of that orange plaid suit. Mockingbird Lane will shoot in June. [CBM]