The Best Movies About Vaudeville You Probably Haven't Seen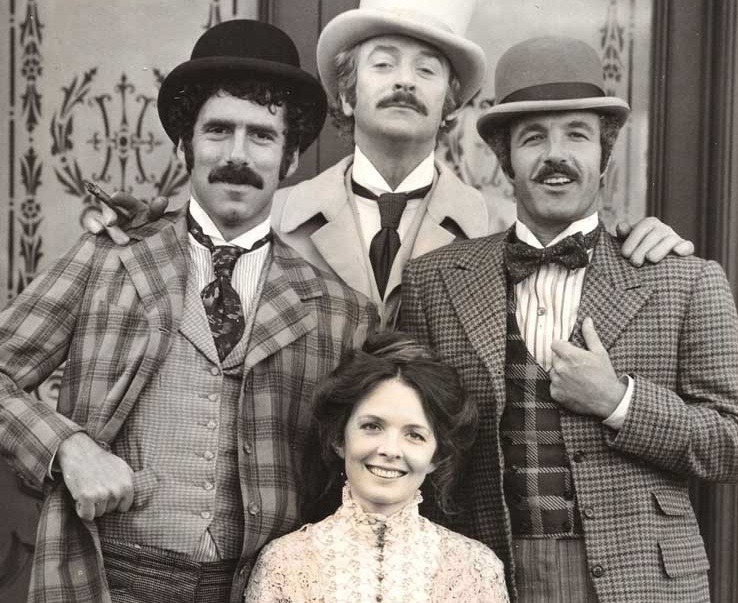 To quote Martin Short's SCTV character Irving Cohen, "years ago there was a thing called a-vaude-a-ville."
Vaudeville was theatrical circuit in the late 19th century and early 20th century where, for a few cents, you'd go to see a stream of short plays, musical or comedy acts. Many of the earliest film comedians got their start there, like Buster Keaton, Charlie Chaplin, the Marx Brothers and, yes, all permutations of The Three Stooges.
This weekend sees the release of the Farrelly Brothers' unfairly maligned film The Three Stooges (it's good, I swear) and it is absolutely soaked in the seltzer that is the Vaudeville aesthetic. Plot will get yanked to the side (as though with a hook on amateur night) if there's an opportunity get a laugh from some physical or verbal schtick. If this is in any way your thing, might I suggest some other Vaudeville-inspired films you probably haven't seen.
The Sunshine Boys (1975); Herbert Ross, director.
Love letters to Vaudeville absolutely have to begin with the film adaptation of Neil Simon's The Sunshine Boys.
In addition to telling a genuinely touching story about two feuding funnymen reuniting for one final curtain, it makes space for one of the sharpest bits of sketch comedy ever written. Walter Matthau (playing older than he actually was) and George Burns (who won as Oscar for the role) rehearse and perform their "Doctor Will See You Now" routine and, despite having seen it three hundred and twenty-five times, it still kills me.
Harry and Walter Go To New York (1976); Mark Rydell, director.
James Caan and Elliot Gould join force as the nuttiest crooked song-and-dance team in this oddball picture that could only happen in the 1970s. Picking pockets is just something to do until their show business ship comes in, but when the evil, patrician safe-cracking celebrity played by Michael Caine goes up against pinko pamphleteer Diane Keaton, Harry and Walter must use all their theatrical powers to win the day. Carol Kane, Charles Durning, Dennis Dugan, Jack Gilford, Lesley Ann Warren and Burt Young co-star.
Even stranger, the character Caine plays, Adam Worth, was actually real!
Oh, What A Lovely War! (1969); Richard Attenborough, director.
In England Vaudeville was called Music Hall, and it did more than inspire those dopey McCartney tunes on "The White Album."
This stubbornly square late-60s anti-war flick is one of the strangest movies of its time. It collects many of the biggest Music Hall hits during the "14-18 War" (aka WWI) and uses them as background to a number of individual scenes to create a very British tableaux. Some sequences work better than others (and many are downright surreal) which meant this was one of the few films that appealed to true nostalgia buffs as well as counter-culture stoners.
The Illusionist (2010); Sylvain Chomait, director.
While at heart this film is about how an old man and young girl can form a friendship without even speaking, the titular illusionist makes his living performing in an Edinburgh vaudeville theater. On the sideline are acrobats, clowns and ventriloquists all being put out to pasture for a modern age of entertainment. It's a little maudlin, but it's French (based on a Jacques Tati script), so it can't help but leave you grabbing the Kleenex by the end.
Chaplin (1992); Richard Attenborough, director.
Probably the most famous vaudevillian/music hall performer to segue into films is Charles Chaplin. While his muse eventually took him in the direction of political satire, songwriting and romanticism, he never forgot that he was put on this Earth to fall down in funny ways.
The 1992 Richard Attenborough (again?) biopic was a little bit of a letdown when it first came out. People were expecting a Ghandi-sized masterpiece. That doesn't mean that there aren't some choice scenes and some terrific moments from the young Robert Downey Jr. The film opens with sequences of him living the vaudeville life that are very much worth the price of admission.
Limelight (1952); Charles Chaplin, director.
But why wax nostalgic over Chaplin when you can watch Chaplin wax nostalgic on his own? Yes, even as far back as 1952 folks were wistful of the forgotten Vaudeville culture, and Limelight, one of Chaplin's later talkies, is a mostly-serious drama set upon that stage.
Limelight is probably best known for being the only film in which the two titans of silent comedy, Charlie Chaplin and Buster Keaton, performed together. If you ever want to come to my house to drink beer and argue over which of the two was funnier, contact SlashFilm directly and they'll give you directions on how to reach me.
Nickelodeon (1976); Peter Bogdanavich, director.
Here's a movie that, I must confess, is more interesting than good.
At the very dawn of cinema, even before the short films you'll see in movies like Hugo, there were the gimmicky parlor films that lasted only moments. They were sometimes just one gag presented in a visual form – or maybe just opportunities for people to see stuff they wouldn't normally see – like a mountain or an ocean.
These embryonic days of movie-making are lovingly retold in Peter Bogdanovich's fun little movie – and many of the side characters are vaudevillians making the transition. The movie itself doesn't quite know if it wants to be "of" the time or "about" the time, but even with this flaw it is still worth checking out.
Broadway Danny Rose (1984); Woody Allen, director.
If Nickelodeon is about the early years, Broadway Danny Rose is what happens after the very end. The final generation of comics from the live TV era, who were maybe kids during the final years of Vaudeville, are still eeking a living as nostalgia acts. They collect at the legendary Carnegie Deli in Manhattan (where, I swear, I just bought an 85 cent pickled tomato on Monday – check my Twitter feed to confirm) to tell their war stories.
All the old comedians (playing themselves) have fond memories for the schlubbiest of managers, Danny Rose, but only one can have the best story.
There are some people who aren't sure if they'll like Woody Allen – I would classify Broadway Danny Rose as one of the best entry points for a newcomer.
More Movies You Probably Havent Seen: