Sequel Bits: Joss Whedon Promises Another Death In 'Dr. Horrible 2', Plus: 'Beetlejuice 2', 'Anchorman 2', 'Percy Jackson', 'Grown Ups 2'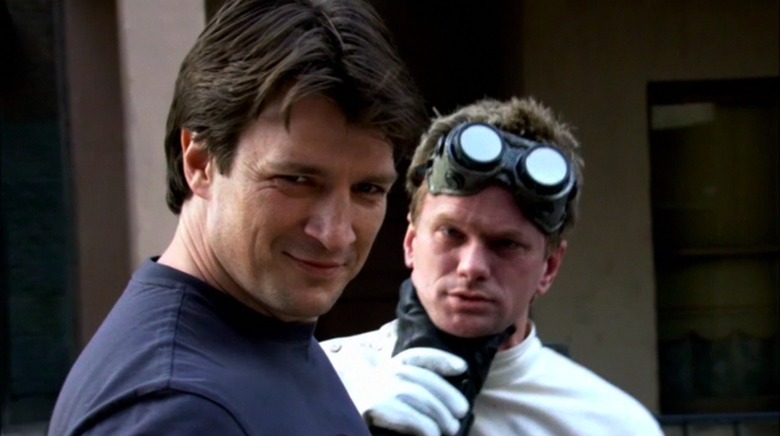 Today's Sequel Bits is all about the number 2. As in Beetlejuice 2, Anchorman 2, Grown Ups 2, Dr. Horrible 2, and Percy Jackson 2 (okay, that's not technically what it's called, but you know what I mean). After the jump:
A small update on Seth Grahame-Smith's Beetlejuice 2
Judd Apatow has a wishlist, Adam McKay has ideas for Anchorman 2
A Hunger Games tribute becomes a daughter of war
Grown Ups 2 casts another young'un to join Taylor Lautner
Joss Whedon teases Dr. Horrible 2 and more death
"The Beetlejuice sequel will come after Unholy Night in my schedule. The first opportunity to tackle that will probably be later this year," he said. Last we heard, Beetlejuice 2 was shaping up to become a direct sequel — not a reboot — with Burton, original star Michael Keaton, and possibly even Johnny Depp on board, but who knows what'll change between now and the time cameras start rolling. Expect to get a clearer idea of what Beetlejuice 2 will be like in the coming months. [via STYD]
As one of Hollywood's reigning kings of comedy, producer Judd Apatow has no shortage of famous friends. For the just-announced Anchorman 2, however, Apatow's hoping to reach beyond his usual circle and pull in some more unexpected — but appropriate, given the topic — stars.
"All of our dream cameos are actual anchormen," he told MTV during an event for his new HBO series Girls. Like, say, Brian Williams, whose daughter Allison Williams stars in Girls? "He kisses my butt enough tonight, you never know," Apatow joked.
Meanwhile, co-writer/director Adam McKay dropped a couple of tantalizing hints to AM760/Salon about the potential plot of the Will Ferrell sequel:
I don't want to give away too much, but I'll just give a couple pieces of ideas that we've kicked around. Keep in mind we're still writing the story, but I'll say one phrase for you: custody battle. I'll give you that. I'll give you one other one: bowling for dollars.
The obvious guess would be that Ron Burgundy and Veronica Corningstone are fighting over their child, but maybe that's too easy... [via Movieline]
Given that Leven Rambin played "career" tribute Glimmer in Gary Ross' The Hunger Games, her next YA-oriented franchise role seems all too fitting. Rambin has signed on for Thor Freudenthal's Percy Jackson and The Olympians: Sea of Monsters in the part of Clarisse, daughter of war god Ares. The character is described as being skilled at battle, but something of a perfectionist.
Rambin joins returning stars Logan Lerman, Alexandra Daddario, and Brandon T. Jackson, as well as newcomers Anthony Head, Nathan Fillion, Yvette Nicole Brown, Missi Pyle, and Mary Birdsong. Shooting on the The Sea of Monsters is scheduled to start in Vancouver April 16 for a March 2013 release. Rambin will be seen this fall in the surfing biopic Of Men and Mavericks opposite Jonny Weston and Gerard Butler. [Variety]
The first Grown Ups focused mainly on its aging comedian roster, including Adam Sandler, Kevin James, David Spade, Chris Rock, and Rob Schneider, but it appears that Happy Madison is hoping to draw in a more youthful crowd with Grown Ups 2. Following last week's casting of The Twilight Saga actor Taylor Lautner, Wizards of Waverly Place star David Henrie has just been added to the cast. Henrie and Lautner will play two of a pack of frat boys who clash with Sandler and his childhood pals.
Grown Ups 2 will actually serve as a reunion for Henrie and James, who co-star in the upcoming family drama Little Boy. Henrie was most recently heard but not seen in the Studio Ghibli animation The Secret World of Arrietty. In addition, he's regularly seen but not heard on CBS' How I Met Your Mother as one of the offspring of the titular Mom and protagonist Ted. [Variety]
There are many reasons to read Joss Whedon's AMA session on Reddit. For one thing, his signature sweet, sarcastic humor is on display as he likens working with the Avengers cast to "herding adorable kittens" and responds that he kills off beloved characters because "You love stupid people." For another, he offers some enticing updates on his upcoming movies including Much Ado About Nothing and — more relevantly for the purposes of this Sequel Bits — Dr. Horrible 2. "We're not shooting right now, we're still in the early stages of writing," he said. "But we hope to make a great deal of progress this summer."
Whedon's mentioned his plan to work on Dr. Horrible 2 this summer before, but this time he answered a couple of other big, looming fan questions as well. (Spoilers for the first Dr. Horrible follow, though I'm not really sure why you've even read this far if you haven't seen the first movie.) "Yes, the original cast will be back for Dr H 2, but Penny will be... um... I don't want to say 'decomposing...'" Whedon teased. "And you can expect the death of someone you love," he added later. [via THR]