Video: Kristen Stewart's 'Snow White And The Huntsman' Costume Detailed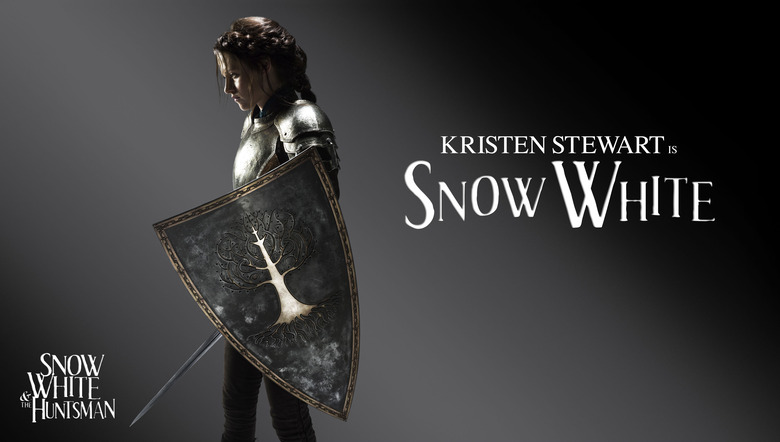 Remember last year when the dueling Snow White films were such a big deal? Much has changed since then. The first, Mirror Mirror, is now in theaters and is doing okay. Reviews were solid but it's not lighting up the box office or anything (Thanks Katniss). Next up is Snow White and the Huntsman, directed by Rupert Sanders, described as the less family-friendly, more epic, action-packed spin on the classic story. The evil Queen (Charlize Theron) hires a fearless huntsman (Chris Hemsworth) to find and capture Snow White (Kristen Stewart), but the pair instead team up – and enlist the help of eight dwarfs – to fight the Queen. It's coming out June 1 but seems a bit lost in a vast release schedule of Summer.
The latest trailers have expanded the scope quite a bit, though, raising fan anticipation higher than ever. This latest video reigns in that massive scope and concentrates on the film's costumes, including the many looks of Kristen Stewart's Snow White, all created by Oscar-winner Colleen Atwood.
Thanks to MTV Movies for this video. It's an entertaining look at an aspect of filmmaking we very regularaly take for granted.
Get More: Movie Trailers, Movies Blog
Here's the official plot description of Snow White and the Huntsman:
In the epic action-adventure Snow White and the Huntsman, Kristen Stewart (Twilight) plays the only person in the land fairer than the evil queen (Oscar(r) winner Charlize Theron) out to destroy her. But what the wicked ruler never imagined is that the young woman threatening her reign has been training in the art of war with a huntsman (Chris Hemsworth, Thor) dispatched to kill her. Sam Claflin (Pirates of the Caribbean: On Stranger Tides) joins the cast as the prince long enchanted by Snow White's beauty and power. The breathtaking new vision of the legendary tale is from Joe Roth, the producer of Alice in Wonderland, producer Sam Mercer (The Sixth Sense) and acclaimed commercial director and state-of-the-art visualist Rupert Sanders.