'Little Birds' Trailer - Juno Temple Wilts In Former Gang Leader's Sundance Hit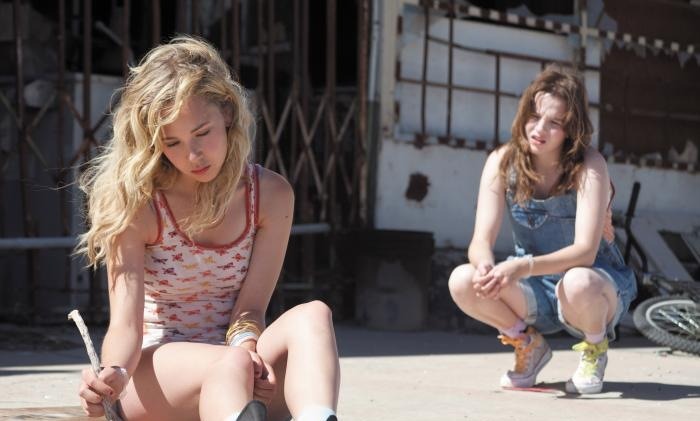 For the past several years, Juno Temple has alternated between mainstream projects and indie fare. And though 2012's shaping up to be her biggest year yet, her basic M.O. is no different. Temple is poised to make her biggest splash yet in Christopher Nolan's The Dark Knight Rises as Catwoman pal Holly Robinson, but first, she'll be leading the indie coming-of-age tale Little Birds.
Written and directed by first-time helmer Elgin James, Little Birds revolves around Lily (Temple) and Alison (Kay Panabaker), a pair of teenage best friends stuck in a dreary ghost town on the Salton Sea. When an opportunity arises for the girls to start more exciting lives in Los Angeles, Lily jumps at the chance and Alison tags along for the ride. Before long, however, they find themselves in over their heads as they get increasingly involved in their new friends' life of petty crime. Leslie Mann, Kate Bosworth, and Kyle Gallner also star. Watch the first trailer after the jump.
[via Collider]
Lily and Alison are obviously stuck between a rock and a hard place, and somehow I just don't see this endeavor ending happily ever after. Your mileage may vary, however, with regard to whether you see Little Birds as brutally honest or self-indulgently miserable. Most of the reviews I've read from last year's Sundance (where Little Birds first premiered) have praised its tough but sensitive portrayl of unhappy youth, but I've also seen some that were less enamored of its "endlessly depressing" tone.
Personally, I think Little Birds looks very intriguing, but then I've got a pretty high tolerance for miserable movies. Temple and Panabaker seem to have a moving rapport, and the shots of the girls' hometown have a despairing beauty to them. Plus, it's nice to see Mann stretch her abilities in a role that has nothing whatsoever to do with Judd Apatow.
Adding a layer of interest to the film is the fact that James himself has led a fairly tough life. After finding himself homeless as a young man, James founded and led a street gang before eventually ending up in Hollywood. Last year, he was sentenced to one year in prison for the attempted extortion of a Chicago-based punk musician; James was released last month.
Millennium Entertainment will release Little Birds on July 13.
Synopsis:
15 year-old Lily (Juno Temple) and her best friend Alison (Kay Panabaker) live on the shores of the Salton Sea among rundown trailers parks, rotting household items, drained pools and decaying streets. What was once an oasis for the wealthy and famous has become a near ghost town, leaving its residents fighting for breath in the deep end. Lily feels eternally claustrophobic and rebellious, living with her manic, single mother (Leslie Mann), clinging to hope for something more exciting than visits with her young and already washed up Aunt (Kate Bosworth).
The town is hardly a fitting backdrop for Lily, who is sprinting with unwavering determination toward adulthood and plotting her escape. And though Alison is content with her life, sheltered in their small town from the uncertainty of growing up, Lily hopes their strong bond with be enough to coax Alison to join her in breaking free from the constraints of their hometown.
When they meet a few visiting street kids, the girls' bond is finally tested and Lily convinces Alison to follow the boys back to Los Angeles. Not intimidated by the journey ahead, Lily is hopelessly drawn to one of the boys and the freedoms of their lifestyle. But in the big city, Lily and Alison quickly fall into the boys' world of scams and petty crime. Lily is determined to stay and make it work, while Alison is overwhelmed and eager to return home. When an idea is hatched to use Lily as bait for men with money to steal, things quickly escalate to a life-changing moment. Lily must decide how far she will go to grow up and Alison must decide how far she will go to protect Lily.