Cool Stuff: Alfred Hitchcock Tribute Art Show At Gallery 1988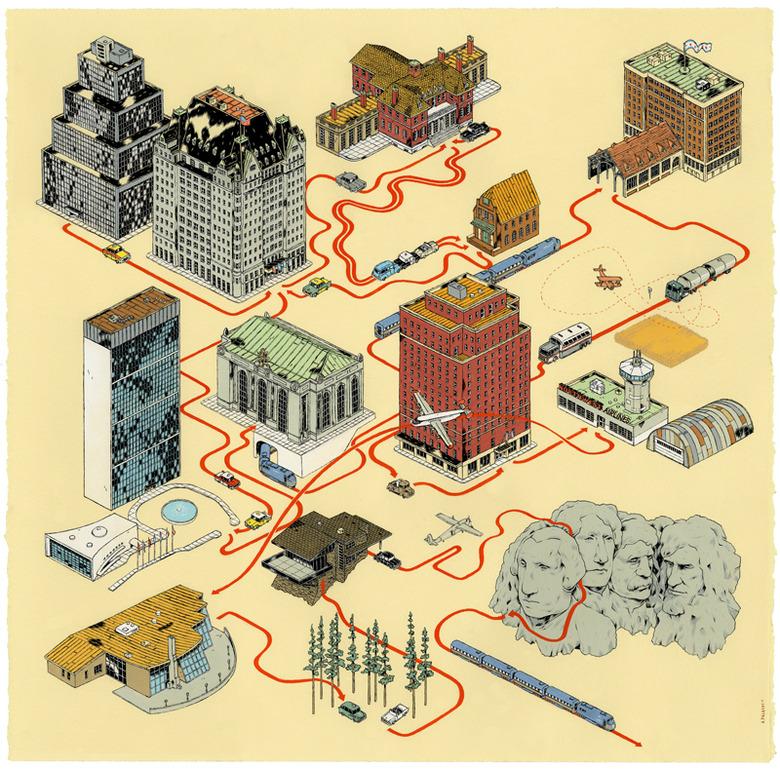 This Friday the 13th, Gallery 1988 in Los Angeles is paying homage to one of the masters of terror: Alfred Hitchcock. Their new show, Suspense and Gallows Humor: A Tribute to the All Time Greatest, opens Friday at their Venice location and will be on display through May 5.
Art from several of Hitchcock's classic films such as The Birds, Psycho, Vertigo, North by Northwest and many more will all on display from artists such as JC Richard, Jay Shaw, Joshua Budich, Guy Burwell, Todd Slater, Phantom City Creative, Jayson Weidel, DKNG, Fernando Reza and others. Check out a small sample after the jump.
The show opens Friday April 13 from 7-10 p.m. at 214 Pier Avenue, Santa Monica, CA.
Here are 14 of the pieces in the show.
While all of the above pieces are striking in their own way, my favorite has to be Andrew Degraff's North by Northwest piece used at the top of this story. It's a map through the major locations of the film, which has always been my favorite Hitchcock because it's just such a wild, entertaining ride. This print is a great, and literal, representation of that.
Also, while they aren't shown above, several of the artists who are currently very popular due to their work for Mondo – JC Richard, Phantom City Creative and Jay Shaw – are all going to be part of this show and you can guarantee their works will be among the most sought after.
After the opening, Suspense and Gallows Humor: A Tribute to the All Time Greatest will be on display at the gallery through May 5 during regular business hours: Wednesday through Sunday from 11 a.m.- 6 p.m. For more information head to www.gallery1988.com.