Nicole Kidman In Talks To Play Grace Kelly In 'Grace Of Monaco'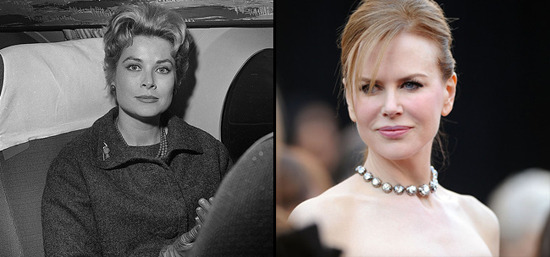 Last year a script called Grace of Monaco hit the Black List, that collation of popular but as-yet unproduced screenplays. The script, by Arash Amel, investigates a year in the life of Grace Kelly, the cool blonde movie star turned Princess of Monaco, as she deals with a crisis in her adopted home country.
The film is going forward with Olivier Dahan (Ghost River, La vie en rose) directing, and now Nicole Kidman is in talks to play the cinema icon.
Variety explains that Grace of Monaco is
...set between December 1961 and November 1962, story finds Kelly as a former Oscar winner and mother of two who had already spent six years as the monarch of a European nation. The retired starlet was called upon to save Monaco from an escalating situation regarding its standing as a tax haven, with French leader Charles de Gaulle giving her husband, Monaco's Prince Rainier III, six months to reform its tax laws.
(The header image pictures Princess Grace in 1961, at which point she looked just a bit different from her screen image in her best-known '50s films.)
Without having read Amel's script, I'm a bit uncertain as to how this has turned into a relatively hot property beyond the fact that whoever plays the lead will be playing one of the most famous cinema figures of the 20th century, and doing so for the director that helped Marion Cotillard win a Best Actress Oscar. In other words, I can't tell if this is anything more than refined Oscar bait.