WTF: 'After School Midnighters' Trailer Features A Dancing, Fighting Visible Man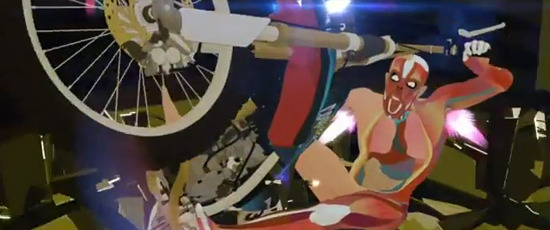 There are a couple examples in manga and anime of the school teaching tool The Visible Man showing up as a character or personality. But I don't think any of them feature the guy dancing, fleeing from half-skinned rabbits wielding machine guns, or jumping a dirt bike through the face of a giant clock.
But the trailer for a Japanese summer kids movie called After School Midnighters (Hokago middonaitâzu) does feature all that stuff, and as a result it is a must-see.
A couple more short teasers are embedded below. They are similarly awesome and crazy. The film is a feature expansion of Hitoshi Takekiyo's 2007 CG anime short After School Midnight.
The trailer's YouTube page offers this info:
An original computer-generated animation film by a young and spirited director with a skillful VFX/CGI crew who have a lot of experience with movies and TV commercials. The main character, Kunstlijk, is a human-body model that stands in a science room of an elementary school. Kunstlijk also reigns over the school after midnight. One day, when a naughty kindergarten trio accidentally meet him, his ordinary life changes. The scariest and craziest after-midnight adventure begins...
[via io9]