Alamo Drafthouse Announces New York City Expansion For 2013 [Updated With Tim League Q&A]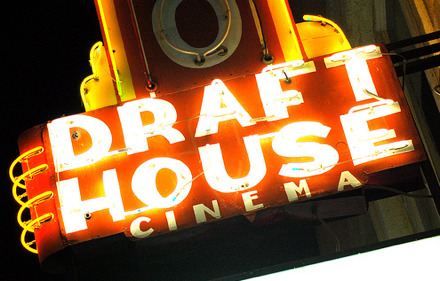 As the Austin, TX-based Alamo Drafthouse Cinema has become one of the major templates for a movie theater chain that pleases filmmakers and audiences alike, film lovers in other cities have hoped the company might find a home in places outside Texas. An early expansion of the chain didn't exactly go without a hitch, as founders Tim and Karrie League sold the brand name, which led to some expansions in Texas that weren't quite up to spec.
In 2010 Tim League
of the Drafthouse, and since has been running it as the premiere boutique cinema chain. The current Texas theaters will soon be complimented by expansions announced for
,
, and
. Today the company announces a long hoped-for New York City location.
The Alamo Drafthouse New York will be in the former Metro Theater at 2626 Broadway, on the Upper West Side. The company promises that the new five-screen location will feature all the things fans like about the Drafthouse: the strict no talking and texting policy, the food and beverage selection, and the creative special events and repertory programming that goes alongside the booking of new films.
After the break read the press release from Alamo; we've also updated with comments from Tim League.
Alamo Drafthouse Cinema is pleased to unveil its plans for its first location in New York.  The five-screen Manhattan-area theater will be owned and operated by Alamo Drafthouse and located on the Upper West Side, occupying the former Metro Theater at 2626 Broadway.
"My often-stated top priority for the Alamo Drafthouse has been to open a venue in New York," said Alamo founder and CEO Tim League.  "When we discovered the availability of the historic Metro theater, we immediately knew we had found the perfect location for our new Manhattan home."
The venue will feature five screens of new releases, repertory programming and the Alamo's unique signature programming.  Like all Alamo Drafthouse theaters, the Alamo Drafthouse at the Metro will provide food and drink service to your seat and will uphold its famously strict no-talking policy.  The new theater is currently scheduled to open in 2013.
Alamo Drafthouse is now accepting applications for managers, kitchen staff, creative programmers, bartenders and waiters for the upcoming Manhattan theater.  Employment applications can be downloaded at www.drafthouse.com/about/employment
I spoke to Tim League just after this release went out. In addition to discussing the new announcement, League re-stated the company's "unwavering commitment" to opening an LA theater. There were possible recent options that didn't work out, but with a NYC location chosen, LA is now the priority.
As far as the opening of the New York theater, League remains circumspect about the timeframe. There's a reason the press release only says '2013:'
We have to choose a contractor and get through the permitting process. We know that it is far easier to do that sort of thing in Austin than it is in New York, so we have a target opening date, which we'll be announcing in the future.
We also talked in general about plans for the new theater.
Will the New York location be different in any substantial way from the experience people expect from the Drafthouse in Austin?
I don't think so. We're opening an Alamo Drafthouse. Every time we open a new theater we try to make it a little bit better, and learn from the last ones. We also look at each one as a neighborhood theater, so we will be hiring people from New York in positions from the chef side of things to the programming side of things. I think it will have its own identity, and it will be part of that Upper West Side neighborhood. So inherently because of the personalities involved it will have a slightly different look and feel, but basically it's going to be an Alamo Drafthouse.
Given that you'll be hiring locally, can we expect a menu with local/regional flavor?
That is in flux, and certainly could change a bit. But, you know, the overall menu of the Alamo may change, too. I don't have a great answer for that other than that we're going to hire the person who's going to be running the kitchen up there, and there may be some decisions that are part of his or her personality to make that difference. And as we grow... we've changed our menu quite a bit over the years, and now that we're expanding a little more rapidly than we ever have, we're looking at what the perfect menu is for us. We're in the process of workshopping that, and it's driven by the idea of us entering markets like San Francisco and New York.
Will reserved seating be offered?
I think what we're going to do is — we're dabbling with seating options in Austin right now, and the current method that we're trying right now is an allocation of a certain percentage of the auditorium as reserved seating, and the rest general admission. One of our challenges is that if we offer the whole house as reserved seating, everybody ends up coming right at the start time of the movie, and that makes our service more disruptive. I'd like to get the food service done before the start of the film. But I think the expectation is that there will be some level of reserved seating, and we'll be offering that. (With a small premium surcharge for the premium seating.)
What can we expect as far as special events?
I'm always going to live in Austin; I may spend a good bit of time in San Francisco and NYC, but the company is based in Austin and we're going to do a lot in Austin still. That said, if we want to do a special event to bring in a director or star for a film in Austin, we have to fly them in, and put them up in a fancy hotel. In New York, we've got the luxury of sending a car service over and being done with it. So I think we'll have an opportunity just being in New York to do great special events and evenings that are part of Alamo's signature programming, and for sure we're going to do Mondo events in Manhattan.